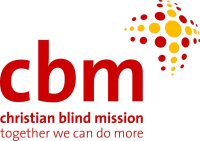 STOUFFVILLE, ONTARIO -- (Marketwired) -- 08/13/13 -- Editors Note: There is a photo and a video associated with this press release.

"What would you do if you saw a little girl crawling on her hands and knees trying to get to school?" asks Ed Epp, cbm Canada's Executive Director. "The reality is, it does happen in our world."

In a little Nepal village, 9-year-old Laxmi has watched her sisters run ahead every school day for the past four years. She can only crawl. As she drags her small, right leg, behind her, she painfully pulls herself through mud, over rocky streams and up steep inclines.

Unlike Laxmi, most children with a disability who live in poverty never see the inside of a classroom. In the poorest communities, 90% of children with disabilities do not attend school. Eight out of every 10 children with a disability die before their fifth birthday. They are often forgotten by their communities, their governments and most development aid.

cbm Canada, a leading international Christian development organization, focuses on helping to find children, like Laxmi, who are trapped in the cycle of poverty and disability in the poorest countries of the world. Through life-changing, life-saving surgery and care, cbm empowers these children to live longer, fuller lives.

cbm has set an urgent yet attainable goal for the end of September 2013 -- to give 1,000 children with disabilities the ability, confidence and opportunity to go to school.

There are two ways that caring Canadians can help cbm reach its goal:


1. A $30 gift will allow cbm to find a hidden child with a disability and begin their first, critical steps toward healing.2. cbm is calling on Canadians to make an email pledge today - "Every child deserves an education, and they shouldn't have to crawl there." For every 1,000 email pledges cbm receives, a generous sponsor will fund one child's complete care - from identification through to access to education - for one year.
"Canadians can help us find these
kids living in poverty
with disabilities, to give them hope and a better life," says Epp.
Every year, cbm helps over 31 million people in 81 countries in Asia, Africa, Latin American and the Middle East.
Visit
www.cbmcanada.org
to learn more about how Canadians can help vulnerable children like Laxmi get to school this September and take their first steps towards self-confidence.
(Links to relevant coverage to-date)
To view the photo associated with this press release, please visit the following link:
http://www.marketwire.com/library/20130812-CBMimage1LG.jpg
.
To view the video associated with this press release, please visit the following link:
http://www.youtube.com/watch?v=N0hfZrPAxws&list=UU0UWU6p5Gt60rtBuv8I2J_g
Add to Digg
Bookmark with del.icio.us
Add to Newsvine


Contacts:
Media contact: cbm Canada
Sandy Hazell
National Media Coordinator
1-800-567-2264 ext 246
shazell@cbmcanada.org
www.cbmcanada.org