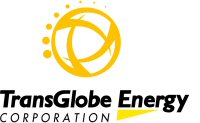 CALGARY, ALBERTA -- (Marketwired) -- 08/12/13 -- TransGlobe Energy Corporation (TSX: TGL) (NASDAQ: TGA) ("TransGlobe" or the "Company") is pleased to announce its financial and operating results for the three and six months ended June 30, 2013. All dollar values are expressed in United States dollars unless otherwise stated.


--  Second quarter production averaged 18,417 Bopd (18,539 Bopd sales);--  Second quarter funds flow of $32.9 million;--  Second quarter earnings of $10.4 million (includes a $19.7 million    impairment loss at South Mariut and a $9.1 million gain on convertible    debentures);--  Spent $19.3 million on exploration and development during the quarter;--  Drilled 14 wells in the quarter resulting in 12 oil wells and 2 dry    holes;--  Drilled 5 wells subsequent to the quarter resulting in 4 oil wells and 1    gas/condensate well;--  Two new oil pool discoveries in West Bakr;--  Collected $31.7 million in accounts receivable from the Egyptian    Government during the quarter;--  Ended the quarter with $101.4 million in cash and cash equivalents;    positive working capital of $286.8 million or $189.8 million net of debt    (including convertible debentures);--  Amended the Borrowing Base Facility to re-establish the borrowing base    at $100 million and to extend the term of the facility to December 31,    2017.
A conference call to discuss TransGlobe's 2013 second quarter results presented in this news release will be held Monday, August 12, 2013 at 9:00 AM Mountain Time (11:00 AM Eastern Time) and is accessible to all interested parties by dialing 1-416-695-6616 or toll-free 1-800-766-6630 (see also TransGlobe's news release dated August 6, 2013). The webcast may be accessed at
http://www.gowebcasting.com/4458
.
FINANCIAL AND OPERATING RESULTS
(US$000s, except per share, price, volume amounts and % change)
                   Three months ended June 30    Six months ended June 30----------------------------------------------------------------------------Financial              2013      2012 % Change      2013      2012 % Change----------------------------------------------------------------------------Oil revenue        152,646   148,078         3   312,561  307,504         2Oil revenue, net of royalties       76,223    73,633         4   155,589  150,845         3Derivative gain (loss) on commodity contracts               -        (1)      100         -     (125)      100Production and operating expense            17,529    11,436        53    32,061   23,402        37General and administrative expense             6,319     6,791        (7)   13,419   13,479         -Depletion, depreciation and amortization expense            12,060    11,762         3    23,240   23,511        (1)Income taxes        19,416    21,333        (9)   43,337   42,918         1Funds flow from operations(i)      32,887    35,174        (7)   68,892   71,262        (3) Basic per share      0.45      0.48                0.94     0.97 Diluted per  share               0.40      0.43                0.84     0.89Net earnings        10,397    30,149       (66)   35,275   41,124       (14)Net earnings (loss) - diluted     (183)   20,821         -    21,244   40,408       (47) Basic per share      0.14      0.41                0.48     0.56 Diluted per  share                  -      0.25                0.26     0.50Capital expenditures       19,295    14,450        34    37,488   18,922        98Corporate acquisition             -    23,097      (100)        -   23,097      (100)Working capital    286,805   240,236        19   286,805  240,236        19Long-term debt, including current portion    15,224    37,855       (60)   15,224   37,855       (60)Convertible debentures         81,830    95,043       (14)   81,830   95,043       (14)Common shares outstanding Basic (weighted-  average)          73,884    73,235         1    73,845   73,148         1 Diluted  (weighted-  average)          82,345    82,056         -    82,094   80,096         2Total assets       670,996   620,937         8   670,996  620,937         8----------------------------------------------------------------------------