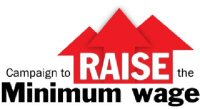 TORONTO, ONTARIO -- (Marketwired) -- 08/12/13 -- At a province-wide day of action on Wednesday August 14th, communities from around Ontario will call for a $14 minimum wage. Local groups will carry out creative actions on the 14th of every month until a minimum wage increase is announced.

Ontario's minimum wage has been frozen for 3 years, while the cost of living continues to rise. The Ontario government recently announced a minimum wage advisory panel to study a possible increase in the minimum wage. Advocates argue the minimum wage should bring workers and their families above the poverty line. That means Ontario's minimum wage should be $14 in 2013. A minimum wage increase is an investment in healthy communities and good jobs for workers in Ontario.

Creative actions are taking place in Toronto, Ottawa, Oshawa, Hamilton, Peterborough, Guelph, York Region, Windsor, Kitchener-Waterloo and Sudbury on August 14th and include Monopoly Street Theatre (Oshawa), a pop-up street party (Toronto) and a pots and pan rally (Ottawa).

Local actions on Wednesday August 14th and contacts:


Oshawa: Minimum Wage Monopoly Street Theatre: 2:00pm Outside MPP Christine Elliott's office, 114 Dundas St. Whitby Jesse Cullen, jesse.m.cullen@gmail.comOttawa: Bring Your Pots and Pans! Raise the Minimum Wage Action: 2:00pm Outside MPP Madeline Meuiller's office, 237 Montreal Rd., Jill O'Reilly, onacornot@acorncanada.orgToronto: Minimum Wage Pop-up Street Party! 6:30pm 29 St. Dennis Drive near Don Mills and Eglinton Sonia Singh, sonia@workersactioncentre.org Outreach drive: 4:45pm Meet at Weston Library, 2 King Street, Weston John Anderson, toronto@acorncanada.org, (778) 385-4385Sudbury: Outreach blitz: 12pm Meet at Memorial Park, Sudbury Christy Knockleby, cknockleby@eastlink.caGuelph: Peter Miller, raise.the.wage.guelph@gmail.comHamilton: Ahmad Al-Amad, alamad.1990@gmail.comKitchener-Waterloo: Poverty Makes Us Sick: forspecialdiet@gmail.comPeterborough: Paul Brown, pbrown@uwpeterborough.caWindsor: Paul Chislett, paul.chislett@gmail.comYork Region: Launch of York Region Raise the Minimum Wage Campaign: 2:00pm Inside 'Job' - Join us for Coffee at Tim Hortons, 11005 Yonge St., Richmond Hill Yvonne Kelly, yvonnek@yrfn.ca
The Campaign to Raise the Minimum Wage is coordinated by ACORN, Freedom 90, Mennonite New Life Centre, OCAP, Ontario Campaign 2000, Parkdale Community Legal Services, Put Food in the Budget, Social Planning Toronto, Toronto and York Region Labour Council and Workers' Action Centre.


Contacts:
Sonia Singh
(416) 531-0778, ext. 221
Cell (647) 235-6912