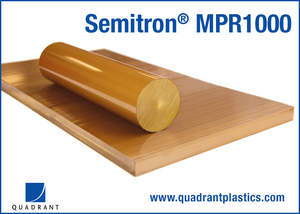 Semitron(R) MPR1000, by Quadrant Engineering Plastic Products, the new material developed for Semiconductor production applications - specifically for the most severe vacuum chamber conditions such as these found in Etch, CVD and Ion Implant.



READING, PA -- (Marketwired) -- 07/09/13 -- Quadrant Engineering Plastic Products (EPP), the global leader of machinable plastics, visits the Semicon West 2013 trade show on July 9-11, 2013 with its innovative family of Engineering Plastic Materials for the Semiconductor and Electronics industries aimed at replacing inferior ceramic and quartz based materials. Quadrant's materials are ideal for wet and dry semiconductor processing applications, delivering industry-leading life in the chamber resulting in lower overall production costs.

The latest addition to the family is Quadrant Semitron® MPR1000, the breakthrough material developed for superiority in Semiconductor applications and more -- specifically for the most severe vacuum chamber conditions. According to Quadrant EPP Global Market Segment Manager, Scott Williams, the new material will fill the performance gap left by traditional materials. "Our exclusive formulation makes Semitron® MPR1000 the ideal material for semiconductor production. It's less expensive than ceramics, is stronger than breakage-prone quartz, survives aggressive plasma chemistries, and is ultra clean in nature," says Williams.

"With Quadrant Semitron® MPR1000 we're re-writing the book on Semiconductor material technology. Design engineers are taking notice that traditional materials such as ceramics or quartz are not their only options and that there is a more intelligent solution for their wet and dry processing requirements. The whole team at Quadrant believes Semitron® MPR1000 is now the go-to material in the industry," Williams notes. A additional benefit is the material's cleanliness in the form of low ionic metal content and low out-gassing.