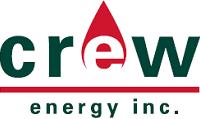 CALGARY, ALBERTA -- (Marketwired) -- 07/09/13 -- Crew Energy Inc. ("Crew" or the "Company") (TSX: CR) of Calgary, Alberta is pleased to announce that it has closed the acquisition of the third tranche of Montney acreage in British Columbia for a purchase price of $35.2 million.

Third Tranche Highlights


--  Acquisition of 81 sections of highly prospective Montney acreage    proximate to Crew's existing 292 sections.--  The 18 section portion in the Altares area, as evaluated by Sproule    Associates Ltd. ("Sproule") effective May 31, 2013, has a proved and    proved plus probable reserve assignment of 2.0 mmboe and 7.6 mmboe,    respectively.--  The net present value of the reserves at Altares discounted at 10% is    $19.4 million for the proved reserves and $76.6 million for the proved    plus probable reserves.--  An updated post acquisition independent resource evaluation by Sproule    assigns a Total Petroleum Initially in Place ("TPIIP") of 91 TCFE on    Crew's aggregated northeast British Columbia Montney acreage, up from    the previously announced 76 TCFE.
OVERVIEW
The closing of the third tranche of Crew's Montney acquisition is consistent with the Company's consolidation efforts in the Greater Septimus area and continues to build on Crew's significant Montney position. The strategic location and importance of this world class Montney play positions Crew for a methodical exploitation of this resource over the next five to ten years. An updated map of the Company's Montney acreage is posted on the Company's website at
www.crewenergy.com
.
MONTNEY RESOURCE EVALUATION
The following discussion is subject to a number of cautionary statements, assumptions and risks as set forth therein. See "Information Regarding Disclosure on Oil and Gas Reserves, Resources and Operational Information" for additional cautionary language, explanations and discussion and "Forward Looking Information and Statements" for a statement of principal assumptions and risks that may apply. See also "Definitions of Oil and Gas Resources and Reserves". The discussion includes reference to TPIIP, DPIIP, UPIIP and Contingent Resources per the Sproule Associates Ltd. ("Sproule") Resources Evaluation effective as at May 1, 2013, prepared in accordance with the Canadian Oil and Gas Evaluation Handbook ("COGE Handbook"). Unless indicated otherwise in this news release, all references to Contingent Resource volumes are Best Estimate Contingent Resource volumes.
Sproule was engaged to conduct an updated independent Montney Resource Evaluation of Crew's 373 net Montney sections located in Northeast British Columbia ("NEBC"). The update includes the third tranche of Crew's acquired lands (the "Acquisition Lands") effective as of May 1, 2013 as well as Crew's previous Montney Resource Evaluation announced on May 13, 2013 (collectively, the "Resource Evaluation"). The Resource Evaluation confirms the development and resource potential on 100 percent of Crew's Montney land base.
The following tables summarize the results of the updated Resource Evaluation including the third tranche of the Acquisition Lands:
----------------------------------------------------------------Natural Gas Resource Categories (1)(2)                       Tcf--------------------------------------------------------------------------------------------------------------------------------Total Petroleum Initially In Place (TPIIP)                  44.6DiscoverPetroleum Initially In Place (DPIIP)ed              15.8Undiscovered Petroleum Initially In Place (UPIIP)           28.8----------------------------------------------------------------