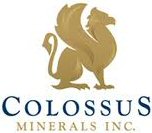 TORONTO, ONTARIO -- (Marketwired) -- 07/08/13 -- Colossus Minerals Inc. (the "Company" or "Colossus") (TSX: CSI)(OTCQX: COLUF) announces assay results from its Phase I surface diamond drilling program on its 75% owned Cutia Project. The Cutia Project is a 75-25% joint venture between Colossus Minerals Inc. and Cooperativa Mista Do Garimpo De Cutia (COOMIC). The Cutia Project is located in the State of Para, Brazil roughly 13 kilometres southeast of the Serra Pelada Mine infrastructure.

HIGHLIGHTS


--  CTA-13-003 intersected 2.35 g/t gold, 0.32 g/t silver and 0.26% copper    over 5.98 metres in the main silicified breccia zone and intersected    material in the historic underground workings immediately above the zone    that returned 7.67 g/t gold, 0.52 g/t silver and 0.24% copper over 5.20    metres that included values of 10.9 and 20.10 g/t gold and as much as    1.02% copper. This material is presumed to be an example of what would    have been mined out by the garimpeiros and demonstrates the potential of    the mineralized system.--  CTA-13-005 intersected 9.58 g/t gold, 1.40 g/t silver and 0.41% copper    over 1.00 metre in the hanging wall portion of the main zone before the    hole intersected historic underground workings. The underground drift    material recovered from this area returned assays of 8.96 g/t gold, 1.28    g/t silver and 0.33% copper over a 1.60 metre interval which included a    sample that assayed 17.54 g/t gold, 2.20 g/t silver and 0.28% copper.--  CTA-13-009 intersected the silicified breccia zone and returned 7.18 g/t    gold, 25.09 g/t silver and 2.61% copper over 5.35 metres including a    high grade interval that assayed 20.69 g/t gold, 223.00 g/t silver and    18.47% copper over a 0.35 metre core length.--  CTA-13-016 intersected a 0.55 metre long silicified breccia zone    containing 13.76 g/t gold, 3.90 g/t silver and 2.04% copper,    representing the Cutia Fault Zone (CFZ) underneath the west pit.--  CTA-13-018 intersected the zone and returned 3.91 g/t gold, 4.01 g/t    silver and 0.76% copper over a 3.25 metre core length.
Claudio Mancuso, CEO of Colossus commented, "While still early the Cutia Project is shaping up to be quite an exciting exploration property."
Results from the current diamond drilling program on the Cutia property can be found in Table 1 below. At the end of this release please find included a diamond drill hole location map together with cross sections of 1000W and 1400W.
TABLE 1:DRILLING RESULTS----------------------------------------------------------------------------                                  From     To Interval(i)  Gold SilverMineralized Zone  Drill-hole ID    (m)    (m)         (m) (g/t)  (g/t)  Cu %----------------------------------------------------------------------------CFZ               CTA-13-001        No significant results--------------------------------------------------------------------------------------------------------------------------------------------------------CFZ               CTA-13-002     93.15  96.00        2.85  1.18   1.03  0.53--------------------------------------------------------------------------------------------------------------------------------------------------------Material in drift CTA-13-003     55.70  60.90        5.20  7.67   0.52  0.24----------------------------------------------------------------------------                  including      57.00  57.80        0.80 10.97   0.60  0.08----------------------------------------------------------------------------                  and            57.80  58.70        0.90 20.10   0.80  0.05----------------------------------------------------------------------------CFZ               and            62.70  68.68        5.98  2.35   0.32  0.26----------------------------------------------------------------------------                  including      64.70  65.25        0.55 11.04   0.60  0.33--------------------------------------------------------------------------------------------------------------------------------------------------------CFZ               CTA-13-004        No significant results--------------------------------------------------------------------------------------------------------------------------------------------------------CFZ               CTA-13-005     55.80  56.80        1.00  9.58   1.40  0.41----------------------------------------------------------------------------Material in drift                59.70  61.30        1.60  8.96   1.28  0.33----------------------------------------------------------------------------                  Including      60.25  60.85        0.60  9.17   1.20  0.29----------------------------------------------------------------------------                  and            60.85  61.30        0.45 17.54   2.20  0.28----------------------------------------------------------------------------CFZ               and            68.10  69.35        1.25  3.50   0.35  0.54--------------------------------------------------------------------------------------------------------------------------------------------------------CFZ               CTA-13-006    121.00 125.75        4.75  3.84   3.39  0.70--------------------------------------------------------------------------------------------------------------------------------------------------------CFZ               CTA-13-007     139.2  141.2        2.00  5.65   6.70  0.66--------------------------------------------------------------------------------------------------------------------------------------------------------CFZ               CTA-13-008     38.85  39.40        0.55  1.13   3.00  0.66--------------------------------------------------------------------------------------------------------------------------------------------------------CFZ               CTA-13-009    102.10 107.45        5.35  7.18  25.09  2.61----------------------------------------------------------------------------                  including     103.00 103.55        0.55 13.41  10.00  0.54----------------------------------------------------------------------------                  and           105.70 106.05        0.35 20.69 223.00 18.47--------------------------------------------------------------------------------------------------------------------------------------------------------CFZ               CTA-13-010     42.20  42.90        0.70  1.79   1.00  0.02--------------------------------------------------------------------------------------------------------------------------------------------------------CFZ               CTA-13-011     95.30  97.70        2.40  0.98   0.60  1.05--------------------------------------------------------------------------------------------------------------------------------------------------------CFZ               CTA-13-012     80.75  81.90        1.15  1.94   1.08  0.22----------------------------------------------------------------------------                  and            100.8 101.30        0.50  8.44   5.90  1.95--------------------------------------------------------------------------------------------------------------------------------------------------------CFZ               CTA-13-013     50.25  52.10        1.85  5.43   1.37  0.88--------------------------------------------------------------------------------------------------------------------------------------------------------CFZ               CTA-13-014    128.70 129.95        1.25  3.06   0.78  0.70--------------------------------------------------------------------------------------------------------------------------------------------------------CFZ               CTA-13-015        No significant results--------------------------------------------------------------------------------------------------------------------------------------------------------CFZ               CTA-13-016      90.4  90.95        0.55 13.76   3.90  2.04--------------------------------------------------------------------------------------------------------------------------------------------------------CFZ               CTA-13-017     41.00  43.30        2.30  0.91   1.13  0.16----------------------------------------------------------------------------Vein                             56.85  57.60        0.75  3.06   2.83  0.11--------------------------------------------------------------------------------------------------------------------------------------------------------CFZ               CTA-13-018    200.50 203.75        3.25  3.91   4.01  0.76----------------------------------------------------------------------------                  including     200.50 201.30        0.80  6.58   4.34  0.98--------------------------------------------------------------------------------------------------------------------------------------------------------(i)core length