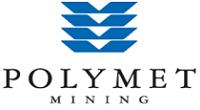 ST. PAUL, MINNESOTA -- (Marketwired) -- 07/05/13 -- PolyMet Mining Corp. (TSX: POM)(NYSE MKT: PLM) ("PolyMet" or the "Company") is pleased to announce the successful completion of its $60.5 million offering (the "Rights Offering") of rights to acquire common shares of PolyMet (the "Rights") which expired at 5:00 PM EST on July 3, 2013. All amounts are in US$.

The Company received 3,194 subscriptions for a total of $95.485 million for 144.674 million common shares of PolyMet. Basic Subscriptions have been allotted in full and Additional Subscriptions have been allotted on a pro rata basis. Because the Rights Offering was oversubscribed, Glencore AG ("Glencore", an indirect wholly-owned subsidiary of Glencore Xstrata plc) did not purchase any common shares under its standby commitment. Glencore acquired 34.7% of the shares issued in the Basic and Additional subscriptions.

"This is a tremendous outcome for PolyMet, demonstrating the depth of support from Glencore and other shareholders as we complete the environmental review and permitting process and prepare for project construction," stated Jon Cherry, President and CEO of PolyMet.


                           Shares  Value - US$  Shares Allotted  Value - US$Basic Subscriptions    74,936,546   49,458,120       74,936,546   49,458,120Additional Subscription          69,737,237   46,026,576       16,699,656   11,021,773Total                 144,673,783   95,484,696       91,636,202   60,479,893
In addition to exercising their Rights, or causing them to be exercised, the board of directors and senior management of PolyMet have acquired 1,102,050 common shares through market purchases of Rights or common shares.
Having repaid the $20 million bridge loan (including accrued interest) advanced by Glencore on April 11, 2013 and paid the standby fee of approximately $1.1 million to Glencore, PolyMet now has approximately $51 million in cash. The primary use of funds will be:
 - Complete environmental review and permitting - $17 million   - Maintain existing infrastructure - $5 million   - Engineering prior to start of project construction - $10 million   - Long lead time equipment - $10 million   - General corporate purposes - $9 million
The shares subscribed for pursuant to the Rights Offering will be delivered within five business days from today, in the same form existing shares are held - by Computershare, by mail in certificate form, or by your broker, nominee or custodian.
If you exercised your Additional Subscription Privilege, you will receive less than the number of shares for which you subscribed and your excess payment for shares that were not allocated to you will be returned to you in the same manner as you made the payment - by mail or through your broker.
Updated Capitalization TableIssued & Outstanding                274,928,606Convertible debentures              24,083,366 issuable @ $1.29 per shareWarrants                            8,168,602 exercisable @ $1.35 per share                                    (weighted average price)Options and restricted stock units  15,208,238 exercisable @ $1.64 per share                                    (weighted average price)Fully diluted (including out-of-the 322,388,812 money) Cash receivable and debentures convertible on exercise of options and warrants                       $65,881,986