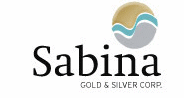 VANCOUVER, BRITISH COLUMBIA -- (Marketwired) -- 07/04/13 -- Sabina Gold & Silver Corp (TSX: SBB) ("Sabina" or the "Company") is pleased to announce positive drilling results at the Locale 2 deposit on the George property. The results are from the Company's 2013 exploration program on its 100% owned Back River project in Nunavut.

"Back River continues to demonstrate its amenability to contain gold with positive results continuing to come in from both the Goose and George properties," said Rob Pease President & CEO "This is a highly prospective land package and year over year we continue to extend mineralization to depth and along strike, while adding ounces and finding new targets that warrant follow-up. Over the last two years, work has focussed on de-risking the Back River project with drilling and engineering and environmental studies. While most field and drilling work done in 2013 will support a potential final feasibility study (FS) due out next year, planning and studies continue on our pre-feasibility study (PFS) due out during the third quarter this year."

Back River

The Back River Project is made up of a series of claim properties: Goose and George (which contain the existing resources) and four other exploration areas: Boot, Boulder, Del, and Bath. These claims host approximately 60 km of prospective iron formation of which approximately only 6km has been systematically explored by Sabina.

George Property

George is located approximately 60 km to the north of the Goose property. The resources at George are considered potential satellite ore bodies that will be mined and trucked to the proposed mill facility at Goose.

Work in 2012 and 2013 has focussed on increasing the confidence in and the resources at both Goose and George for inclusion in engineering studies and for permitting efforts. At George, the resources are contained in a number of mainly underground deposits with the majority of the gold ounces located in the Locale 1 and 2 deposits. Work has focused on evaluating these targets for open pit extraction as well as converting underground resources for inclusion later in the project mine life. Regional exploration at the George property in past years also resulted in new discoveries for exploration of potential open pit deposits, Fold Forest and Lone Cow Pond in particular. Work continues to evaluate these targets.

Locale 2 Resource Expansion Drill Program

This year drilling at the Locale 2 deposit focused on testing the Gap and Hinge zones. The Gap zone is an area approx. 120m wide at the southern end of the Locale 2 deposit without any previous drilling and the Hinge zone is a thickened fold within the Locale 2 deposit with favorable width and grade

A total of 16 exploration holes have been completed at the Locale 2 deposit and results, as highlighted below, continue to support a significant potential for resource expansion. Drilling at the Locale 2 Gap target was completed with 13 drill holes highlighted by new assays including holes 13GRL103 returning 8.96g/t Au over 18.50m and 13GRL102 returning 13.55g/t Au over 7.00m. These new results now establish a significant strike extension to the south portion of the deposit that was previously not recognized and is a direct result of leveraging opportunities from newly developed deposit models.