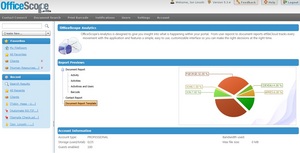 OfficeScope Analytics feature allows visual tracking of automated workflows for increased business intelligence and better business decisions.



WESTBOROUGH, MA -- (Marketwired) -- 07/04/13 -- etfile, a premier workflow and document management solutions provider, today declares freedom from paper with the launch of OfficeScope. The new cloud-based document management solution improves upon current market offerings by enabling instant storage of any document -- or email -- to the cloud, associating information with existing contact lists or embedded barcodes and providing full analytics reports on access and revisions. Small to mid-sized businesses can declare their independence from paper with a free trial from OfficeScope at: www.officescope.com/pricing-editions.html

According to Reduce.org, North Americans consume more paper per capita -- upwards of an estimated 500 pounds annually and the average office worker uses approximately 10,000 pieces of paper. According to Mark Linton, president at etfile and the 2013 Boston Business Journal/Mass High Tech CIO of the Year Award winner, one of reasons for this enormous paper consumption is a lack of cloud-based, document management solutions specifically tailored for small to mid-sized businesses (SMBs).

"Many companies have attempted to use cloud-based storage systems, but find they lack strong integration with existing word processing and email solutions or the flexibility to associate and retrieve all documents based on different criteria," Linton said. "We have developed OfficeScope to be a natural extension of the way businesses use Google Docs, SalesForce, Microsoft Office or any other popular business applications, to offer a 'one click' document filing and retrieval system, coupled with power encryption and rich reporting features."

etfile developed OfficeScope from over a decade of experience helping insurance agencies -- among the most document-intensive industries -- streamline their workflow processes. The new offering combines enterprise-level document management features with the scalability and simplicity of the cloud, to offer SMBs an affordable means to manage paperwork.