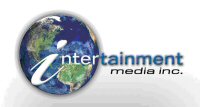 TORONTO, CANADA -- (Marketwired) -- 07/03/13 -- Intertainment Media Inc. (TSX VENTURE: INT)(OTCQX: ITMTF)(FRANKFURT: I4T) ("Intertainment" or the "Company") announces that Craig McCannell has been appointed the Chief Financial Officer of the Company. The appointment of Mr. McCannell is subject to regulatory approval.

Craig McCannell, CA

A former Senior Manager at Ernst and Young, with over 10 years of experience at the firm, Mr. McCannell serves as Intertainment Media's Chief Financial Officer. As a senior manager in the assurance practice, Mr. McCannell's professional background involves extensive experience with publically traded technology entities in both Canada and the U.S. Prior to his appointment as Chief Financial Officer, he held a senior level role with Intertainment Media for the previous 18 months as Director of Finance.

Mr. McCannell is a Canadian Chartered Accountant and holds an H.BBA from Wilfrid Laurier University.

Mr. McCannell replaces Edward Jonasson who resigned as Chief Financial Officer to pursue other business opportunities. Mr. Jonasson will remain as a consultant to the Company to provide assistance with the transition and to lend his expertise to some of our future endeavours. The Board of Directors would like to thank Mr. Jonasson for his contributions to Intertainment and wish him well in his future pursuits.

Intertainment is also pleased to report that further to the Company's press release of June 3, 2013, the Company, along with its partner, Avenza Holdings Inc., have signed a definitive share purchase agreement (the "Agreement") to sell Poynt Inc. ("Poynt") to Sprylogics International (TSX VENTURE: SPY), ("Sprylogics"). Closing of the acquisition is subject to satisfactory completion of all closing conditions as set out in the Agreement, including receipt of all third-party and regulatory approvals.

Additionally, the Company is pleased to announce that it has agreed to issue 1,173,485 shares pursuant to an existing shares for services agreement with Richardson & Patel of Los Angeles, CA. The shares for services agreement provides for the aggregate settlement amount of $129,083.45, at a price of $0.11 per Common Share. The Common Shares are subject to a four-month hold period from the date of issuance in accordance with applicable securities laws.

The transactions contemplated under the debt settlement agreements are subject to certain conditions including, but not limited to, the receipt of all necessary approvals, including that of the TSX Venture Exchange.

Finally, the Company announces the resignation of Board of Director Mr. Jeffrey Puritt. Mr. Puritt has been a member of the board of directors for the past 2 years and the Company wishes him well in his future endeavors.

About Sprylogics

Sprylogics International develops advanced search and analysis technology. The patent pending technology platform uses Semantic and Machine Learning techniques to process, analyze and interpret unstructured data including real time conversation, in order to extract key sentiments, facts, user interests and intent. The technology platform is currently being used to develop innovative solutions related to search and discovery of products and places on mobile devices. Find out more at www.sprylogics.com or www.2ya.it.