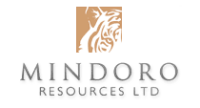 CALGARY, ALBERTA -- (Marketwired) -- 07/02/13 -- Mindoro Resources Ltd. (TSX VENTURE: MIO)(ASX: MDO)(FRANKFURT:WKN 906167) is pleased to announce the appointments of Tony Climie to the board of directors, Penny Gould to the position of Executive Vice President and Corporate Secretary, and Edsel Abrasaldo to the position of Vice President Operations, effective July 1, 2013. These appointments reinforce Mindoro's long-term commitment to ensuring not just the preservation, but growth of the company's assets and building maximum value for its shareholders.

"After being re-appointed CEO in December 2012, Tony has reassumed a place on the board of directors where he can better assist with determining the strategic direction of the company", stated Mindoro's Chairman, Rob Garden. "Tony's knowledge of Mindoro's properties and its affairs in the Philippines give him a perspective that that no one else can bring to the board's deliberations. I am also pleased to welcome back to Mindoro former executive Penny Gould. She brings her irrepressible enthusiasm and extensive experience to bear in liaising with shareholders and advancing Mindoro's corporate objectives. Edsel Abrasaldo is one of Mindoro's greatest assets in the Philippines and his appointment recognizes the essential role that he plays in managing the Company's Philippine operations. These officers, along with Clayton Northey, CFO, form a strong core group who are dedicated to leading Mindoro through these difficult economic times and rebuilding the value our shareholders deserve."

Tony Climie, B.Sc., P,Geol. (Hons.), co-founded Mindoro in 1996 and, as CEO, managed the acquisition and advancement of an extensive portfolio of copper-gold, gold, and nickel laterite projects in the Philippines. With a reorganization of the Company in early 2010, and entrance of major Australian shareholders, Tony relinquished the CEO position, and focused on his role as Country Manager for Mindoro in the Philippines. He left the Board in mid-2012 as the Company underwent further reorganization that included the sale of many of its gold and copper-gold projects. At that time Tony worked to put together a joint venture with successful Canadian mining company TVI Pacific to jointly develop the Agata nickel laterite project. Tony was reappointed CEO in December 2012 to lead the Company and reshape future strategy based on development of the Agata direct shipping high iron ore and nickel processing operations, and advancing its remaining copper-gold projects.

Penny Gould, B.Ed., first joined Mindoro in 1996 and served in a variety of executive positions over the next 15 years, with primary responsibility for establishing high standards of corporate governance and shareholder relations. When Mindoro's head office relocated to Melbourne in 2011, Penny left the company, but continued to provide corporate support on a consulting basis. Commenting on her appointment, Penny stated, "I'm excited to be back working for Mindoro as Executive VP. I firmly believe in the future of this company and am dedicated to helping unlock the great value that it holds. I look forward to reconnecting with Mindoro's shareholders and encourage them to contact me with their questions and concerns, or just to chat about Mindoro's operations."