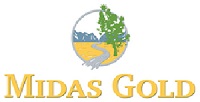 VANCOUVER, BRITISH COLUMBIA -- (Marketwired) -- 07/02/13 -- Midas Gold Corp. (TSX: MAX) ("Midas Gold" or the "Company") today announced that it has agreed to undertake a C$9,809,800 million non-brokered private placement (the "Placement") with Teck Resources Limited (TSX: TCK.A)(TSX: TCK.B)(NYSE: TCK) ("Teck") whereby Teck will subscribe for 12,740,000 common shares of Midas Gold ("Shares") at a price of $0.77 per Share, which represents a 10% premium to the 5-day volume-weighted average trading price of the Shares and a 5% premium to the closing price on June 28, 2013. Teck currently holds no shares of Midas Gold. It is anticipated that Teck will own approximately 9.9% of the shares outstanding upon closing of the Placement. Proceeds of the Placement will be used to continue the evaluation of Midas Gold's Golden Meadows Gold Project located in Idaho, USA, and for general working capital purposes.

"Following on the recent transaction with Franco-Nevada Corporation, Teck's investment in Midas Gold represents the second endorsement of the potential of the Golden Meadows gold-antimony-silver project in Idaho by a major mining house," said Stephen Quin, President & CEO of Midas Gold. "This financing will allow us to make the necessary commitments to support the delivery of our key objectives of (1) updating the mineral resources estimates for the Golden Meadows Project to incorporate substantial amounts of new data collected in 2012-13, (2) complete a pre-feasibility study based on the updated mineral resource estimates and incorporate updated designs, concepts and engineering in the first half of 2014 and, if warranted, (3) subsequently prepare and submit a plan of operations to initiate the preparation of an environmental impact statement by the appropriate regulators." In parallel with these key objectives, Midas Gold continues to collect baseline environmental information, evaluate the legacy environmental disturbance from prior mining activities on site and opportunities to remediate and restore those disturbed areas in conjunction with potential mining activities, if and when such occur.

No finder's fees or commissions will be paid in connection with the Placement. The Shares issued to Teck will be restricted from trading for a period of four months following the closing date. The Placement is subject to applicable regulatory approvals. Teck will have the right, but not the obligation, for as long as it owns at least 5% of the issued and outstanding shares in Midas Gold, to participate in any future equity financings to the extent of its percentage ownership in Midas Gold's share capital at the time of such financing.

In response to continued poor market conditions for resource equities, Midas Gold continues to focus on reducing expenditures and overheads while delivering its core objectives as cost-effectively as possible; the Company undertook significant staff reductions in December 2012 and March 2013 and is currently working to close its US subsidiary's Spokane office, consolidating its technical personnel and activities in Idaho. "Midas Gold will continue to look for opportunities to reduce costs across the organization and ensure funds are cost-effectively focused on the Company's key priorities of mineral resource updates and completion of a pre-feasibility study and, if warranted, preparation of a plan of operations to initiate the mine operation permitting process," said Mr. Quin. "With this additional funding in place, Midas Gold anticipates it will be funded to meet its key objectives through the end of 2014, providing some certainty and stability to project activities through this critical period."