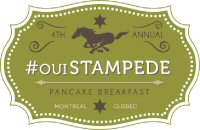 MONTREAL, QUEBEC -- (Marketwired) -- 07/02/13 -- #OuiStampede Pancake Breakfast & Fundraiser is gearing up for its 4th annual event - a western claddin', country croonin', do goodin' pancake breakfast that brings true Calgary spirit to Montreal each July.

Hosted by Calgary native, Clare McWilliams, she and her husband open their kitchen and courtyard to friends, neighbours and a local charity of choice. It's a lively barn party that celebrates a slice of Western tradition on the West side of Montreal in the borough of Notre Dame de Grace.

This year, armed with a $5,000 fundraising goal, 75 guests from across Canada will support the cowboys in their life with a donation to Montreal-based PROCURE, The Force Against Prostate Cancer.

To support those affected by the devastating floods in Southern Alberta, organizers are auctioning a prize package to raise funds for the Canadian Red Cross Alberta Floods Fund.


WHO: #OuiStampede Pancake Breakfast & FundraiserWHERE: 3421 Walkley Avenue Montreal, QC H4B 2K2 (Private Residence)WHEN: PHOTO OPPORTUNITY July 6, 2013 at 12:30 pm Media are invited to experience an open house and special presentation to PROCURE. Spokespeople from #OuiStampede and PROCURE will be present to answer questions. GUESTS: July 6, 2013. The event is scheduled from 11:00 am to 5:00 pmWHAT: Fused by Stampede spirit and joie de vivre, experience cowgirl- meets-gourmet grub, hay bales, country tunes, line dancing - the real deal with a French twist.
Over $8,300 in prizes, guest gifts and professional services have been donated by the following brands: Maybelline New York, Garnier, Ombrelle, Biotherm Homme, Giorgio Armani Cosmetics, Molson Canadian, Virgin Radio, Umbra, Montreal Impact, Montreal Alouettes, Cafe 92, Alexandra Charlotte Cupcakes, Run Digital, Eva Wan Designs, Ian Woo Photography, Rockzierski Media and Bloom Communications Consulting.
Hashtag: #OuiStampede on
Twitter
,
Facebook
,
Instagram
and
Pinterest


Contacts:
Clare McWilliams
#OuiStampede Host / Proud Calgarian
Principal, Bloom Communications Consulting
(514) 318 1528
cmcwilliams@bloomandgrow.ca