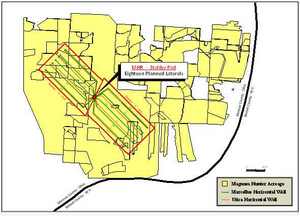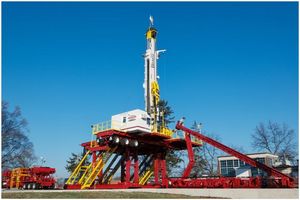 HOUSTON, TX -- (Marketwired) -- 07/02/13 -- Magnum Hunter Resources Corporation (NYSE: MHR) (NYSE MKT: MHR.PRC) (NYSE MKT: MHR.PRD) (NYSE MKT: MHR.PRE) (the "Company" or "Magnum Hunter") announced today that it has spud its first well on the Stalder Pad site located in eastern Monroe County, Ohio. This pad has been designed and permitted to drill up to 18 gross wells (10 Marcellus and 8 Utica), and will be drilled using the Company's new Schramm T500XD robotic drilling rig. The first well drilled on this multi-well pad site will test the Marcellus formation and the second well on this pad will test the Utica formation. Triad Hunter, LLC, a wholly-owned subsidiary of the Company, is operating the well and owns a 50% working interest in this drilling unit. The development plan is to drill both Utica and Marcellus wells first, then fracture stimulate them, and subsequently test the wells sometime during the fourth quarter of 2013. The Company's midstream subsidiary, Eureka Hunter Pipeline, LLC, is currently laying a new 20" high pressure gas line to the Stalder Pad with first deliveries from this area anticipated in October of this year.

Mr. Gary C. Evans, Chairman of the Board and Chief Executive Officer of Magnum Hunter Resources, commented, "The eastern portion of Monroe County is an exciting region for us, especially due to our significant acreage position and the ability to exploit so many wells on just one drilling pad site targeting both the Marcellus and Utica formations. This will be our first well utilizing our new Schramm T500XD robotic drilling rig which should create significant savings on costs as well as time. As we continue to delineate our acreage position in southeast Ohio, we anticipate significant production growth coming from this region."

About Magnum Hunter Resources Corporation

Magnum Hunter Resources Corporation and subsidiaries are a Houston, Texas based independent exploration and production company engaged in the acquisition, development and production of crude oil, natural gas and natural gas liquids, primarily in the states of West Virginia, Ohio, North Dakota, Kentucky, Texas and Saskatchewan, Canada. The Company is presently active in three of the most prolific unconventional shale resource plays in North America, namely the Marcellus Shale, Utica Shale and Williston Basin/Bakken Shale.

For more information, please view our website at www.magnumhunterresources.com.

Forward-Looking Statements

The statements and information contained in this press release that are not statements of historical fact, including any estimates and assumptions contained herein, are "forward looking statements" as defined in Section 27A of the Securities Act of 1933, as amended, referred to as the Securities Act, and Section 21E of the Securities Exchange Act of 1934, as amended, referred to as the Exchange Act. These forward-looking statements include, among others, statements, estimates and assumptions relating to our business and growth strategies, our oil and gas reserve estimates, our ability to successfully and economically explore for and develop oil and gas resources, our exploration and development prospects, future inventories, projects and programs, expectations relating to availability and costs of drilling rigs and field services, anticipated trends in our business or industry, our future results of operations, our liquidity and ability to finance our exploration and development activities and our midstream activities, market conditions in the oil and gas industry and the impact of environmental and other governmental regulation. In addition, with respect to any pending transactions described herein, forward-looking statements include, but are not limited to, statements regarding the expected timing of the completion of proposed transactions; the ability to complete proposed transactions considering various closing conditions; the benefits of any such transactions and their impact on the Company's business; and any statements of assumptions underlying any of the foregoing. In addition, if and when any proposed transaction is consummated, there will be risks and uncertainties related to the Company's ability to successfully integrate the operations and employees of the Company and the acquired business. Forward-looking statements generally can be identified by the use of forward-looking terminology such as "may," "will," "could," "should," "expect," "intend," "estimate," "anticipate," "believe," "project," "pursue," "plan" or "continue" or the negative thereof or variations thereon or similar terminology.