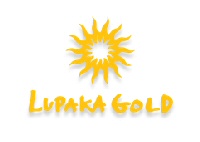 VANCOUVER, BRITISH COLUMBIA -- (Marketwired) -- 07/02/13 -- Lupaka Gold Corp. ("Lupaka Gold" or "the Company") (TSX: LPK)(LMA: LPK)(FRANKFURT: LQP) announces the results of its most recent campaign of metallurgical recovery testing on the mineralization from the A-1 Zone at the Company's Crucero Gold Project.

Summary results are from tests performed on two composite samples reflecting the two distinct mineralization types within the Crucero mineralization envelope. The wide range of recovery results reflects the suite of tests performed and the treatment options analyzed. Depending on types of minerals, their concentration and grind size, leach extraction of 60-75% gold was achieved. Diagnostic leach tests at ultrafine grinds showed leach extraction of 89% and 94% for the two composites. The results have not been optimized and were performed with the purpose of assisting the Company to focus its exploration efforts through improved understanding of mineral associations and minerology, as it explores the remaining 10 identified (to date) exploration anomalies at Crucero.

Eric Edwards, President and CEO of Lupaka Gold stated, "We are satisfied that the testing has accomplished its objective and provided sufficient direction to the Company to proceed with additional exploration at Crucero. The gold bearing mineralization responds favourably to whole ore leaching, gravity, magnetic and flotation separation, and cyanidation final recovery of a dore product."

Working with Ausenco, the Company designed the test parameters for the most recent campaign to broadly evaluate the different mineralization types within the Crucero resource envelope. Mr. Edwards continued, "The metallurgical results obtained are within the range expected, but more importantly, show a path forward for optimization and further testing."

Summary Metallurgy Results For the A-1 Zone

The metallurgical test work programme evaluating the characteristics of Crucero Gold Project's A-1 Zone was conducted by SGS Lima, Peru and managed by Ausenco. The focus of the test programme was to investigate the two major mineralization gold association types represented by two separate composites: a Northern, mainly pyrrhotite, composite; and a Southern, mainly arsenopyrite, composite.

The Ausenco work evaluated several different processing options including whole-ore leaching, pre-aeration, grind size sensitivity cyanide concentration sensitivity, flotation, flotation concentrate leaching at various cyanide concentrations and regrind sizes, flotation tailing leaching at various cyanide concentrations, gravity concentration which included flotation of gravity tails and leaching of gravity concentrate and gravity tails. Comminution testing included Bond Ball Mill Work Index and SAG Mill Comminution tests. As no variability testing was conducted, the results presented herein are considered preliminary and are to be further evaluated when future variability testing is conducted.

The comminution characteristics for the Crucero Gold Project's A-1 Zone indicate that the ore is medium hardness and has a high competency.

The test work demonstrated that the mineralization is mildly refractory to cyanide leaching. Leach times of 24 hours at a grind size of 80% passing 53 microns provided extractions of 60-65% for the Southern Composite having a 1.57 g/t gold head grade and 70-75% for the Northern Composite having a gold head grade of 1.24 g/t. Ultrafine grinding tests to 80% passing 10 microns on whole-of-ore samples increased extractions to 89% and 94% for the Southern and Northern composites respectively, indicating that extraction is likely to be a function of liberation and not necessarily true refractory (solid solution) losses. It should be noted that these extractions are considered preliminary as no variability tests have been carried out, and further gold association work is required prior to providing indications of extractions achievable over the whole deposit. Gold is considered to be the only mineral of economic interest.