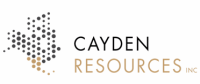 VANCOUVER, BRITISH COLUMBIA -- (Marketwired) -- 07/02/13 -- Cayden Resources Inc. (TSX VENTURE: CYD) ("Cayden" or the "Company") is pleased to announce that it has acquired the 100% interest or the option to earn a 100% interest in two concessions totaling 36,700 hectares around the company's El Barqueno concession.

"The two acquisitions increase Cayden's land position from 9,800 hectares to over 46,000 hectares in the Barqueno Gold District. We believe that this District is highly underexplored and our three concessions have multiple targets that have the potential for significant open-pit gold deposits," stated Ivan Bebek, President and CEO.

The terms of the acquisitions for the new concessions are:

Concession 1 - hereafter referred to as Barqueno II

Cayden has signed a Letter Agreement to earn a 100% interest in the Barqueno II concession covering approximately 9,500 hectares located adjacent to the Cayden's original El Barqueno concession. (see map at www.caydenresources.com).

Under the Letter Agreement, Cayden paid the owner $25,000 and committed to 3 years of concession tax payments totaling $87,500 as listed in Schedule A. Cayden has the option to complete the 100% earn-in by incurring expenditures totaling $1,400,000 on the concession as listed in Schedule B and making a final payment by June, 2017 of $5,000,000. The final payment can be made in either cash or common shares which would be valued at the 10-day weighted average market price prior to payment date. The property will be subject to a 2.5% NSR payable to the underlying owners of the concession.

Schedule A - Concession Tax Payments (committed)


Year 1 - $12,500Year 2 - $25,000Year 3 - $50,000
Schedule B - Work Expenditures (optional)
Year 1 - $200,000Year 2 - $400,000Year 3 - $800,000 or 5,000 meters of drilling
The Letter Agreement is subject to approval from the TSX Venture Exchange.
The Barqueno II concession contains several historical small-scale workings that appear to have been used for exploring and/ or producing gold from numerous EW and ENE veins.
Concession 2 - hereafter referred to as Barqueno III
Cayden has staked a total of 27,200 hectares around the west and northwest boundaries of the original El Barqueno concessions. The approximate staking costs were $12,000 and the annual concession tax payments for year 1 and 2 are $23,000 each year.
The Barqueno III concession has had some limited historical exploration that identified the presence of multiple EW and ENE epithermal veins.
On Behalf of the Board,
Ivan Bebek, President and CEO
About Cayden Resources - Cayden is a junior mining company focused on delivering shareholder value through the acquisition, exploration and development of precious metal projects in Mexico. The management team at Cayden is highly experienced with an impressive track record of success in the discovery, development and financing of mineral projects. Cayden is also strongly committed to the highest standards for environmental management, social responsibility, health and safety for its employees and neighboring communities. Cayden trades on the TSX Venture Exchange under the symbol "CYD". For more information on Cayden Resources, please visit our website at
www.caydenresources.com
.
Forward Looking and other Cautionary Information - Neither the TSX Venture Exchange nor any other regulatory authority accepts responsibility for the adequacy or accuracy of this release.
This release includes certain statements that may be deemed "forward-looking statements". Forward-looking information is information that includes implied future performance and/or forecast information including information relating to, or associated with, exploration and or development of mineral properties. These statements or graphical information involve known and unknown risks, uncertainties and other factors which may cause actual results, performance or achievements of the Company to be materially different (either positively or negatively) from any future results, performance or achievements expressed or implied by such forward-looking statements. Investors should review the Company's AIF are available at
www.sedar.com
.
To view Figure 1 - El Barqueno Claim Map, please visit the following link:
http://media3.marketwire.com/docs/884196_Figure_1.pdf
.


Contacts:
Cayden Resources Inc.
Ivan Bebek
President and CEO
778.729.0600 or Toll Free 800.863.8655
604.683.8194 (FAX)
info@caydenresources.com
www.caydenresources.com