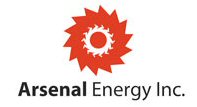 CALGARY, ALBERTA -- (Marketwired) -- 07/02/13 -- Arsenal Energy Inc. ("Arsenal" or the "Corporation") (TSX: AEI) (PINKSHEETS: AEYIF) announces that, at its annual and special meeting of shareholders held on June 27, 2013 the following six director nominees were elected:


NOMINEE VOTES FOR VOTES WITHHELD Number Percent Number PercentMr. Tony van Winkoop 57,918,403 97.56 1,446,352 2.44Mr. William Hews 58,003,413 97.71 1,361,342 2.29Mr. R. Neil MacKay 58,016,133 97.73 1,348,622 2.27Mr. R.H.(Harley)Kempthorne 58,009,443 97.72 1,355,312 2.28Mr. Bill Powers 52,337,133 88.16 7,027,622 11.84Mr. Derek Petrie 57,998,663 97.70 1,366,092 2.30
In addition, Arsenal's shareholders approved the appointment of KPMG LLP as its auditors for the ensuing year, an amendment to the Articles of the Corporation consolidating the Common Shares of the Corporation and an amendment to the Corporation's by-laws to allow for an advance notice provision with respect to the election of directors. Shareholders may access the Corporation's Management Information Circular for greater detail through the Internet on the Canadian System for Electronic Document Analysis and Retrieval (SEDAR) at
www.sedar.com
.
A copy of the Annual and Special Meeting presentation is available on the Corporation's website at
www.arsenalenergy.com
To receive the Corporation's news releases via e-mail, please advise
info@arsenalenergy.com
and specify "Arsenal Press Releases" in the subject line.


Contacts:
Arsenal Energy Inc.
Tony van Winkoop
President and Chief Executive Officer
(403) 262-4854
(403)-265-6877 (FAX)

Arsenal Energy Inc.
J. Paul Lawrence
Vice President, Finance and CFO
(403) 262-4854
(403)-265-6877 (FAX)

Arsenal Energy Inc.
1900, 639 - 5th Avenue S.W.
Calgary, Alberta, T2P 0M9i
info@arsenalenergy.com
www.arsenalenergy.com