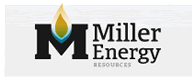 ANCHORAGE, AK -- (Marketwired) -- 07/02/13 -- In the news release, "Miller Energy Resources Provides Update on RU-1 Well," issued Monday, July 1, 2013 by Miller Energy Resources (NYSE: MILL), we are advised by the company that in the last sentence of the second paragraph, it should read "4,000 Boepd" rather than "3,000 Boepd" as originally issued. Complete corrected text follows.

Miller Energy Resources Provides Update on RU-1 Well

RU-1 Sidetrack Underway

ANCHORAGE, AK -- July 1, 2013 -- Miller Energy Resources, Inc. ("Miller Energy" or the "Company") (NYSE: MILL) and its wholly owned Alaskan operating subsidiary, Cook Inlet Energy ("CIE") today announced that CIE has moved Rig 35 over to its RU-1 oil well where the Company will perform a sidetrack similar to the one recently completed on its RU-2A well.

"Following our successful completion of RU-2A, we have moved our rig to RU-1," stated Scott M. Boruff, CEO of Miller. "We have great examples of what proper well design will produce, and our experience from RU-2 has provided additional data points that we are looking to for this next rework. With the production from our existing wells and work being performed this summer, we expect to remain on track to exit the 2013 calendar year at a run rate over 4,000 Boepd."

The Company's proposed sidetrack involves pulling the old electronic submersible pump ("ESP") completion and abandoning the lower part of the well by setting a bridge plug and whip-stock. A window will be milled into the casing at approximately 13,000 feet measured depth and drilling will commence to a new bottom-hole location similar to that of the original wellbore or approximately 15,500 feet. Completion will include running a 5.5 inch production liner back to the original 9-5/8 inch casing, cementing, perforating and putting a new ESP in place. The Company expects to complete the sidetrack on RU-1 and have the well online by early August 2013.

In 2012, the Company performed a procedure with its Rig-35 to remove all the old ESPs, packers, and liquid level control valves ("LLCs") that were creating obstruction in RU-1. The company successfully removed over 35,000 lbs. of this material; however, one ESP and LLC could not be removed without risk of damaging the wellbore. Subsequently the Company set a new ESP above the remaining obstruction with plans to evaluate the well following the next standard periodic ESP failure. The new pump was put online in October 2012 and ran successfully until recently requiring replacement. The Company has already removed that ESP, in preparation for this new sidetrack. Assessing the deficiencies that historically caused less than optimal production, the Company has determined that sidetracking the existing wellbore above obstructions remaining in the well's subpar section will remedy the issues and improve flow rates substantially.

About Miller Energy Resources

Miller Energy Resources, Inc. is an oil and natural gas exploration, production and drilling company operating in multiple exploration and production basins in North America. Miller's focus is in Cook Inlet, Alaska and in the heart of Tennessee's Appalachian Basin including the Mississippian Lime and Chattanooga Shale. Miller is headquartered in Knoxville, Tennessee with offices in Anchorage, Alaska and Huntsville, Tennessee. The company's common stock is listed on the NYSE under the symbol MILL.