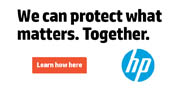 RYE BROOK, NY -- (Marketwired) -- 07/18/13 -- ImageWare Systems, Inc. (OTCQB: IWSY) and Deutsche Telecom (OTCQX: DTEGY)

HP Enterprise Services

Mr. John Diamant, Distinguished Technologist, CISSP, CSSLP, HP Secure Product Development Strategist & U.S. Public Sector Application Security Strategist, HP Enterprise Services, U.S. Public Sector, Cybersecurity Solutions, told us, "It's certainly important to invest in traditional security (firewalls, infrastructure, anti-virus, and so forth), but clearly we see an underinvestment in application security as it typically represents less than 10% of security spends, directly resulting in a weak security link. Reactive security, such as security patching and security testing, remains important not only as quality controls, but also from the security standpoint. However, if enterprises continue to build their entire security quality model on just reactive measures, it should not come as a surprise that successful attacks will continue to dominate the news. This said, IT professionals must proactively require, architect and design security in up front. Building security in early combined with the commonly performed reactive security testing and patching as appropriate, can help enterprises get ahead of this dilemma."

For the complete interview with John Diamant, please click here. (http://www.securitysolutionswatch.com/Interviews/in_Boardroom_HP_Diamant.html)

Please download HP's White Paper "The New Attack Vector: Applications"
(http://www.securitysolutionswatch.com/forms/HP_diamant/form.php)

For more information: Cybersecurity for U.S. Public Sector (http://www8.hp.com/us/en/industries/public-sector.html?compURI=1087497#.UVx9sJMZauI)

*****

ImageWare Systems

ImageWare Systems, Inc. (OTCQB: IWSY) a leader in cloud identity management, and valued partner Emida, a leader in the global prepayment and value transfer market, entered into an agreement whereby ImageWare Systems will provide Emida its patented CloudID™ software-as-a-service (SaaS) platform, which will enable a fully-validated, feature-rich security solution that will run on top of Fujitsu's Global Cloud Platform (FGCP). Smartphone users, service providers and merchants will have unprecedented identity and value exchange protection for financial transactions.