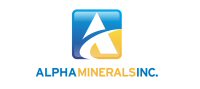 VANCOUVER, BRITISH COLUMBIA -- (Marketwired) -- 07/18/13 -- Alpha Minerals Inc. (TSX VENTURE: AMW)(FRANKFURT: E2GA) ("Alpha" or "the Company") and its 50% Joint Venture partner Fission Uranium Corp. are pleased to announce partial results of its first hole of the summer drill season, testing the western extension of the R390E zone. Hole PLS13-072 (drilling still in progress), has so far returned a broad 85.5m interval (62.0m - 147.5m) of variably radioactive mineralization including a total of 18.93m of off-scale (greater than 9999 cps) radioactivity in numerous narrower intervals throughout.

The hole is located 15m grid west of hole PLS13-061, previously the western-most hole testing the R390E zone. Scintillometer results for hole PLS13-072 overall are stronger, wider, more continuous and contain significantly more off-scale radioactivity than PLS13-061 (see news release dated April 3, 2013). Drilling of hole PLS13-072 is still in progress at a depth of 185.1m, but temporarily on-hold for mechanical reasons and is awaiting replacement.

PLS13-072 Highlights:


--  85.5m (62.0m - 147.5m) wide main zone containing total of 18.93m of off-    scale (greater than 9999 cps) radioactivity.    --  Main zone characterized by variable radioactivity from weak-to-very        strong throughout.    --  Off-scale mineralization comprised of multiple narrower intervals of        off-scale (greater than 9999 cps) radioactivity ranging in width        from 0.1m to 4.6m wide each, totaling 18.93m.--  Expands the western boundary of the R390E zone by 15m.--  Main wide zone of variably radioactive mineralization starts at shallow    depth of 62.0 m, and two narrower intervals starting at 157.5 m and    169.5 m of weak-to-moderate radioactivity as measured with a GR-110 hand    held scintillometer.
Key Technical Details
--  Hole PLS13-072 (R390E Zone line 345E) was collared as a vertical hole    and is still in progress at a depth of 185.1m. The collar is located 15m    grid west of PLS13-061 (23.5m @ 1.39% U3O8 including 6.0m @ 4.34% U3O8    (see news release June 5, 2013), and represents a significant    intersection at the R390E zone.--  This new drill hole represents a shallow, very broad interval of almost    continuous radioactivity and, importantly, extends the R390E Zone an    additional 15.0m west.
The relevant geological features of the hole are as follows:
--  Basement bedrock was encountered at 55.7m depth, immediately below the    overburden with no Devonian sandstone encountered above the basement.--  In drill hole PLS13-072 there is a marked difference in the absence of    Devonian sandstone, and greater depth to the top of basement rocks    compared to drill holes located along strike to the east within the    R390E zone. This may be a result of the RC rig casing past the    overburden and bedrock contact, and so the presence or absence of    Devonian sandstone is inconclusive. Alternatively, the lack of Devonian    sandstone and presence of shallower mineralization may indicate that the    bedrock source of the high grade uranium boulders is possibly    approaching further to the west of PLS13-072. Other step out drill holes    may resolve this.--  From 55.7m to 163.0m basement lithology consists of alternating    sequences of moderate-to-steeply dipping pelitic gneiss and mylonites.    This alternating sequence is underlain by semi-pelitic gneiss from    163.0m to the present drilling depth.--  Moderate-to-locally-strong clay alteration is present throughout the    pelitic gneiss/mylonite package.--  Radioactive mineralization (62.0m - 147.5m) starts 6.3m below the    overburden - basement unconformity and is dominantly constrained within    the pelitic gneiss/mylonite rocks, though weak mineralization continues    below within the semi-pelitic gneiss. The upper 5.0m of mineralization    being very weakly radioactive while more intense mineralization begins    at 67.0m and continues to 108.0m, consisting of weak-to-strong    radioactivity including numerous narrower intervals of off-scale    (greater than 9999 cps) radioactivity each ranging in width from 0.1m to    4.6m wide.--  From 108.0m to 125.0m, mineralization is weak-to-moderately radioactive    and increasing to moderate-to-locally-strong from 125.0m to 147.5m.R390E----------------------------------------------------------------------------                                (i) Hand-held Scintillomenter Results On                              Mineralized Drillcore (greater than 300 cps /                Collar                greater than 1.0M minimum)          ------------------------------------------------------------------                                                                         CPS            Grid                 From       To    Width                 PeakHole ID     Line    Az   Dip      (m)      (m)      (m)                Range----------------------------------------------------------------------------PLS13-072   345E     0   -89     62.0    147.5     85.5      less than 300 -                                                           greater than 9999          ------------------------------------------------------------------                                 69.0     85.5     16.5  1100 - greater than                                                                        9999          ------------------------------------------------------------------                                 92.6     99.5      6.9  5000 - greater than                                                                        9999          ------------------------------------------------------------------                                157.5    162.5      5.0 less than 300 - 8600          ------------------------------------------------------------------                                169.5    172.0      2.5  less than 300 - 720----------------------------------------------------------------------------R390E----------------------------------------------------------------------------                     Sandstone               Basement                  Total                     From - To           Unconformity              DrillholeHole ID                    (m)              Depth (m)              Depth (m)----------------------------------------------------------------------------PLS13-072                N / A                   55.7                  180.0          ------------------------------------------------------------------