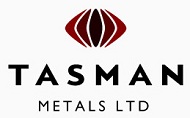 VANCOUVER, CANADA -- (Marketwired) -- 07/17/13 -- Tasman Metals Ltd. ("Tasman" or the "Company") (TSX VENTURE: TSM)(FRANKFURT: T61)(NYSE MKT: TAS)(NYSE Amex: TAS). Mr Mark Saxon, President & CEO, is pleased to announce Tasman's wholly owned Swedish subsidiary, Tasman Metals AB, has been selected as a key mining industry partner in the recently launched EURARE project. EURARE is a research project co-funded by the European Commission under the Seventh Framework Programme of the European Community for Research, Technological Development and Demonstration Activities (Grant Agreement NMP2-LA-2012-309373).

Following the rare earth element (REE) supply crisis of 2010 and 2011, the EURARE project was initiated collaboratively by European research and industry, with the aim to "develop a sustainable exploitation scheme for Europe's rare earth ore deposits". EURARE brings together the partners required for a complete European REE supply chain. The impressive consortium includes university-affiliated research groups, geological surveys, metallurgical equipment manufacturers, environment management groups and REE consumers.

On the potential REE supply side, 4 European deposits were selected to be part of the EURARE consortium and advance into full pilot scale technology demonstration. Tasman's Norra Karr project is one of these 4 deposits. Furthermore, lab scale research on Tasman's Olserum deposit will also be conducted under the project. Tasman's Swedish REE deposits can present attractive supply options for European Union REE consumers, as they are enriched in the high-value heavy REE's, lie close to established infrastructure and are within an active mining jurisdiction. Tasman was recently granted a 25-year mining lease for the Norra Karr project.

The EURARE project will receive a total of up to EUR9 million over a period of 5 years, to be directed towards "Work Packages" that range from deposit scale assessment to REE metal and alloy production. Tasman shall receive direct funding of approximately EUR250,000 (CA$340,000) plus additional indirect funding applied to all phases of metallurgical research including beneficiation, REE separation and metal production. Tasman has received its first EURARE funding allocation, and samples from both Norra Karr and Olserum have been forwarded to relevant research partners.

"Tasman congratulates EURARE coordinator Prof. Ioannis Paspaliaris from NTUA, and the European Commission, for the forethought to establish and fund EURARE" said Mark Saxon, Tasman's President and CEO. "Development of an REE supply chain in the western world is a challenging objective, however with European producers, research partners and consumers aligned through EURARE, a secure supply chain is certainly achievable. Tasman's Swedish deposits can form the foundation of this supply chain, with Norra Karr alone able to fill much of the European demand for REE's for at least 40 years. The additional funding and synergy received under EURARE allows Tasman to push research more quickly and in areas not previously contemplated."

About EURARE

The EURARE project has received funding from the European Community's Seventh Framework Programme ((FP7/2007-2013)) under grant agreement n degrees 309373. This publication reflects only the author's view, exempting the Community from any liability. Project web site: www.eurare.eu.