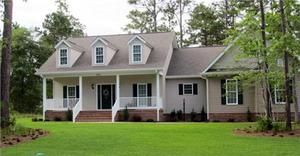 A popular smaller, flexible house plan from The Plan Collection: Exterior photo of Plan #141-1017.



STAMFORD, CT -- (Marketwired) -- 07/17/13 -- The Plan Collection (TPC), the leading online house plan provider, reports that with marked improvements in both consumer and home builder confidence in the single family housing market more Americans are choosing to purchase house plans online for new homes or renovations to accommodate future lifestyle needs. While higher mortgage rates in recent months seem to have briefly spooked multi-family construction, consumer spending on the web continues to see double digit growth, home builder confidence hit a seven year high this month, and both single family housing permits and construction starts in June 2013 were up by double digit percentages versus last year while essentially flat as compared to a solid May performance.

In May Forrester Research reported that e-commerce spending in the United States will hit approximately $262 billion this year, up 13.4 percent from $231 billion a year ago. These same Internet buyers are offering earlier and deeper insights on home design trends based upon their online house plan selections.

Despite bumps along the way, after over five years of waiting on the sidelines, families are finally showing signs of confidence in the single family housing market. First came higher sale prices of new and existing homes. Today, we see a rate of 591,000 seasonally adjusted single family housing starts for June 2013 -- an 11.5% increase versus June 2012 -- and a rate for single family building permits of 624,000 for June 2013 -- an increase of 24.6% versus June 2012 -- according to the just released construction report for June 2013 from the U.S. government. While overall housing starts in June 2013 were down 9.9% as compared to the prior month, the drop in new housing starts was almost entirely driven by declines in construction starts of multi-family buildings of five or more units.

Home mortgage approval rates are also up significantly -- while approval standards remain unchanged -- showing a stronger financial picture for the average family applying for a home loan. Mortgage approval rates are up nearly 20 percent while there is little evidence lenders are relaxing underwriting standards, according to the February originations report from Ellie Mae.

"Although mortgage rates have spiked the last couple months they remain low in terms of historical standards," said James McNair, president and chief operating officer, The Plan Collection. "Households aren't ratcheting up their consumer spending at unreasonable rates as seen by relatively slow retail sales growth -- but they are purchasing 'smarter' post Great Recession. Consumers drawn to purchases they see more as investments as well as to economic value, and online house plans are capitalizing on both."