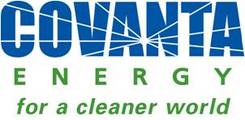 MORRISTOWN, NJ -- (Marketwired) -- 07/17/13 -- Covanta Holding Corporation (NYSE: CVA) ("Covanta" or the "Company"), a leading global owner and operator of Energy-from-Waste ("EfW") projects, reported financial results today for the three and six months ended June 30, 2013.



                                                     Three Months Ended                                                           June 30,                                                 ---------------------------                                                     2013           2012                                                 ------------   ------------                                                  (Unaudited, $ in millions,                                                  except per share amounts)Revenue                                          $    413       $    410Net (Loss) Income from Continuing Operations     $    (38)      $     19Adjusted EBITDA                                  $    120       $    125Free Cash Flow                                   $     18       $     17Adjusted EPS                                     $    0.10      $    0.15
Q2 2013 Highlights:
•$8 million financial benefit from power purchase agreement (PPA) buyout •Signed 15 year extension for MacArthur EfW facility service fee contract and completed additional bundled services agreements in New England •Achieved 40% year-over-year growth in non-ferrous metal tons recovered •Strategic shift on UK development; GAAP charges of $49 million •Reaffirming FY2013 guidance
Commenting on Covanta's results, Anthony Orlando, President and Chief Executive Officer stated, "We achieved solid results this quarter. Operating performance was in line with our expectations and key financial metrics came in slightly better than expected, as we had a modest benefit from a power purchase agreement buyout. Furthermore, I'm pleased with the progress on all of our organic growth initiatives and look forward to a strong second half of the year."
Q2 2013 Results

Operating revenues of $413 million increased $3 million compared to the prior year. This increase was primarily due to the execution of organic growth initiatives, such as special waste and metal recovery, the Honolulu expansion unit coming online, and contract escalations. This increase was partially offset by lower construction revenue, lower revenues earned to service project debt and lower spot waste pricing. The benefit from higher energy market pricing was almost entirely offset by lower metal market pricing.
Excluding impairment and restructuring charges outlined in Exhibit 4A - Note (a) of this press release(1), operating expenses of $356 million increased $2 million compared to the prior year. The increase was driven by the timing of scheduled plant maintenance expense and higher depreciation and amortization expense. These higher costs were partially offset by an $8 million benefit related to a PPA buyout.
Excluding the impairment and restructuring charges noted above, operating income increased by $1 million to $57 million compared to $56 million in the prior year. This increase was due to the drivers noted above.