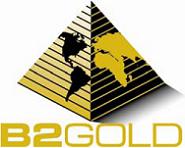 VANCOUVER, BRITISH COLUMBIA -- (Marketwired) -- 07/17/13 -- B2Gold Corp. (TSX: BTO)(NYSE MKT: BTG)(NAMIBIAN: B2G) ("B2Gold" or the "Company"), is pleased to announce further positive drilling results from the exploration program at the Otjikoto gold project in Namibia. These positive drill results, as detailed below, indicate the potential to outline additional higher grade resources that could lead to the expansion of production and an increased mine life at the Otjikoto gold project. The project, currently in construction, is on schedule and on budget to commence production in the fourth quarter of 2014.

Exploration Drill Results

An additional 60 diamond drill holes have been drilled on the Otjikoto project since the last update (see news release dated April 10, 2013) bringing the year to date drill holes completed to 107 for a total of 22,194 metres. The majority of the new holes were drilled on the Wolfshag zone discovery, situated immediately to the east and northeast of the planned open pit on the main Otjikoto deposit. Recent drilling on the Wolfshag zone has concentrated on infill drilling of the northern portion of the zone, from 7800N to 8800N, with 100 metres spaced sections and 25 metres hole spacing on section.

Significant new results from the Wolfshag drilling include, from north to south:


--  WH13-073 with 18.85 metres at 5.84 grams per tonne (g/t) gold, including    13.75 metres at 7.00 g/t gold;--  WH13-083 with 24.60 metres at 5.35 g/t gold, including 8.80 metres at    11.26 g/t gold;--  WH13-095 with 13.55 metres at 6.83 g/t gold, including 5.30 metres at    16.74 g/t gold;--  WH13-078 with 18.65 metres at 7.11 g/t gold, including 5.60 metres at    15.51 g/t gold;--  OT13-355 with 13.65 metres at 6.13 g/t gold, including 4.85 metres at    13.61 g/t gold; and 6.35 metres at 7.10 g/t gold;--  OT13-362 with 15.00 metres at 6.64 g/t gold, including 3.90 metres at    10.83 g/t gold;--  OT13-361 with 23.80 metres at 3.15 g/t gold and 20.75 metres at 3.18 g/t    gold, including 6.20 metres at 9.00 g/t gold, and 9.00 metres at 2.66    g/t gold, including 3.00 metres at 6.83 g/t gold;--  OT13-365 with 11.40 metres at 3.92 g/t gold, including 5.10 metres at    7.34 g/t gold;--  OT13-366B with 5.40 metres at 5.60 g/t gold and 11.00 metres at 6.04 g/t    gold, including 4.20 metres at 12.19 g/t gold.
(A table of selected results is at the end of this release)
The current phase of infill drilling will upgrade the Wolfshag zone to an inferred resource and will be completed in the next two weeks. The initial inferred resource estimate for the zone is expected by year end. The Otjikoto exploration budget for 2013 is $8.0 million. More drill results will be released as they are available. The Wolfshag zone has been defined over 1,600 metres and the mineralized system remains open down plunge to the south and extends up to the base of the calcrete, at about 10 to 15 metres below surface, to the north.
It is important to note that the average mineable grade of the adjacent main Otjikoto deposit is 1.42 g/t gold as stated in the feasibility study. Based on the proximity of the Wolfshag zone to the planned Otjikoto open pit, the Company believes a significant amount of the Wolfshag mineralization could be included in an expanded pit, subject to further drilling and final mine plan. The Company intends to update the mine plan to incorporate the Wolfshag zone once infill drilling has upgraded the resource to indicated next year.