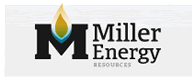 KNOXVILLE, TN -- (Marketwired) -- 07/16/13 -- Miller Energy Resources, Inc. ("Miller" or the "Company") (NYSE: MILL) today reported its results for the fourth quarter and fiscal year ended April 30, 2013. Revenues for fiscal 2013 declined 2% to $34.8 million compared to $35.4 million in fiscal 2012. Miller reported a net loss attributable to common stockholders of $25.5 million, or $0.60 per diluted share, in fiscal 2013 compared to a loss of $19.5 million, or $0.48 per diluted share in fiscal 2012.

Fourth quarter revenues declined 13% to $7.7 million in fiscal 2013 compared to $8.9 million in the fourth quarter of fiscal 2012. Net loss attributable to common stockholders for the fourth quarter of fiscal 2013 was $13.1 million, or $0.31 per diluted share, compared to a loss of $8.4 million, or $0.20 per diluted share, in the fourth quarter of fiscal 2012. The decrease in fourth quarter revenue resulted from RU-7 being offline due to a pump failure and related workover, a normal decline curve from our WMRU field, and fluctuations in our shipping schedules.

"Miller continues to successfully rework, recomplete and sidetrack wells on our Osprey offshore platform in Alaska with Rig 35," stated Scott Boruff, CEO. "While our revenues remained relatively constant in fiscal 2013 as compared to the prior year, we achieved several operational milestones late in the fiscal year and subsequent to year end. In fiscal 2014, we expect to see a substantial increase in revenues with significant contributions from our newest oil well, RU-2A, and our newest gas wells, RU-3 and RU-4. Currently, RU-2A, RU-3, and RU-4 are producing approximately 1,700 boepd, which has more than doubled our production. Based on current production levels we expect that RU-2A will increase revenue by more than $10 million per quarter and add $8 million per quarter to free cash flow."

"We believe that increased production from Alaska will drive incremental revenue and profit growth," added David Voyticky, President and Acting CFO. "We will continue to execute our strategy to restore existing wells to production and further develop our Alaskan properties. We are well positioned to aggressively pursue our 2014 strategic priorities with increased cash flow, the ability to access the capital markets through Series C Preferred Stock offerings, continued benefits from Alaskan tax credits, and the potential for joint ventures."

Operational and Financial Highlights

•Received approval from state regulators to commence drilling with Rig 35 on the Osprey offshore platform in the Redoubt Shoals field in Alaska. The rig has been used on workovers for RU-1, RU-2A, RU-3, RU-4 and RU-7. RU-3 and RU-4 are now fulfilling 100% of our current fuel gas demand with a combined flow rate of 2.5 MMcfd, and RU-2A is producing more than 1,300 boepd. •Completed the first horizontal well in the Mississippian Lime in Tennessee, CPP-H-1. •Applied for a right-of-way permit necessary for construction of the Trans Foreland pipeline. When completed, this subsea pipeline will move crude oil from the west side of the Cook Inlet to the east side where the nearest refinery is located. Transporting the crude via pipeline will decrease costs and increase safety. •Average realized oil prices increased 9% to $101.53 in fiscal 2013 compared to $93.10 for fiscal 2012. •Closed $100 million credit facility, with an initial borrowing base of $55 million, with Apollo Investment Corporation on June 29, 2012, refinancing the higher cost facility that previously existed. •Issued Series B Preferred Stock to accredited investors. •Issued Series C Preferred Stock, which is listed on the NYSE, through underwritten public sales and At The Market ("ATM") sales.