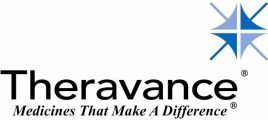 LONDON and SOUTH SAN FRANCISCO, CA -- (Marketwired) -- 07/12/13 -- GlaxoSmithKline (GSK) and Theravance, Inc. (NASDAQ: THRX) today announced that the licence application for the use of fluticasone furoate (FF) and vilanterol (VI) (proposed brand name RELVAR™ ELLIPTA™) in patients with chronic obstructive pulmonary disease (COPD) has been withdrawn from the current Japanese New Drug Application (JNDA). The review of FF/VI for use in patients with asthma is continuing to progress through the normal Japanese regulatory process as part of this JNDA.

The submission for the once-daily investigational medicine FF/VI contained data from six studies in over 6,000 COPD patients. Japanese patient specific efficacy data were generated from two 6-month efficacy (lung function) studies. These studies demonstrated the benefit of the combination FF/VI compared with placebo on the co-primary endpoints of 0-4 hour weighted mean FEV1 and trough FEV1. However, in an assessment of the contribution of each of the individual components, while VI achieved a statistically significant improvement in weighted mean FEV1 the contribution of FF on improvement of lung function did not achieve statistical significance in these studies.

As no Japanese patients were enrolled in either of the 52-week exacerbation studies also conducted with FF/VI, GSK believes that the data from the 6-month studies alone may be insufficient to support the efficacy of the combination and its components in this specific patient group. As a result, a decision has been taken to withdraw COPD from the current JNDA at this time. The application for FF/VI as a potential treatment for asthma remains under review in Japan.

GSK and Theravance are currently determining next steps and possible clinical studies of FF/VI for the treatment of Japanese patients with COPD to support the resubmission. Further details will be provided in due course.

RELVAR™ and ELLIPTA™ are trademarks of the GlaxoSmithKline group of companies. The use of the brand name RELVAR™ is not approved by any regulatory authority.

GlaxoSmithKline -- one of the world's leading research-based pharmaceutical and healthcare companies -- is committed to improving the quality of human life by enabling people to do more, feel better and live longer. For further information please visit www.gsk.com

Theravance -- is a biopharmaceutical company with a pipeline of internally discovered product candidates and strategic collaborations with pharmaceutical companies. Theravance is focused on the discovery, development and commercialization of small molecule medicines across a number of therapeutic areas including respiratory disease, bacterial infections, and central nervous system (CNS)/pain. Theravance's key programmes include: RELVAR™ ELLIPTA™ or BREO™ ELLIPTA™ (FF/VI), ANORO™ ELLIPTA™ (UMEC/VI) and MABA (Bifunctional Muscarinic Antagonist-Beta2 Agonist), each partnered with GlaxoSmithKline plc, and its oral Peripheral Mu Opioid Receptor Antagonist programme. By leveraging its proprietary insight of multivalency to drug discovery, Theravance is pursuing a best-in-class strategy designed to discover superior medicines in areas of significant unmet medical need. For more information, please visit Theravance's web site at www.theravance.com.