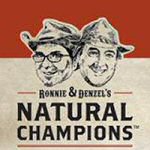 ENDERBY, BRITISH COLUMBIA -- (Marketwired) -- 07/12/13 -- To view the photos associated with this press release, please visit the following links:

http://www.marketwire.com/library/20130712-BBQsauce.jpg

http://www.marketwire.com/library/20130712-BBQsauce2.jpg

Look out, Kansas City! Move over, Texas! Make room for a new regional barbecue sauce: Canadian Maple, the latest addition to the award-winning line of Ronnie & Denzel's NATURAL CHAMPIONS BBQ Sauces.

"Although Canada doesn't have the rich tradition of the US when it comes to barbecue, we're hoping to establish one with this distinctly flavoured sauce," says Denzel Sandberg. "Ronnie and I are real proud of this one."

Sandberg and barbecue evangelist Rockin' Ronnie Shewchuk introduced Ronnie & Denzel's NATURAL CHAMPIONS BBQ Sauces in 2009 as a tribute to four of their favourite regional barbecue styles - Kansas City Style, Southwestern Red, Honey Mustard (a Carolina-style sauce) and Island Heat (a cross between a traditional barbecue sauce and spicy Jamaican jerk).

The sauces have earned a strong following among folks who appreciate tasty, locally made products featuring natural ingredients, and they've won scads of awards. But for Ronnie and Denzel, something was missing. For over two years they experimented with new combinations of ingredients, striving for a truly Canadian taste.

"What could be more Canadian than maple syrup?" asks Ronnie. "We're using Canada No. 1 grade Quebec maple syrup along with traditional barbecue sauce ingredients, and we think it's a real winner."

"Canadian Maple goes great with all the usual suspects - beef, chicken and pork," says Denzel. "But it's also awesome on planked salmon, and wild meats like venison or moose. To be honest, I think it would even make another Canadian classic, roadkill, taste good!"

Ronnie & Denzel's NATURAL CHAMPIONS BBQ products are available at many fine retailers in BC and Alberta, including Save On Foods, Whole Foods, The Gourmet Warehouse, Edible Canada and Well Seasoned: A Gourmet Food Store in BC, and Calgary's Cookbook Co. Cooks.

For more information, contact Ronnie or Denzel directly at the numbers and email addresses below, or visit the Natural Champions Real BBQ page on Facebook at www.facebook.com/natural.champions.bbq.

About Ronnie and Denzel

Rockin' Ronnie Shewchuk has authored three bestselling BBQ cookbooks, including his latest, Barbecue Secrets DELUXE! Ronnie was named one of "America's greatest grillers" in Food & Wine magazine, and his competition barbecue team, the Butt Shredders, has a wall full of trophies. Ronnie is the host of the Barbecue Secrets podcast, available on iTunes and on the web. Find out more about Ronnie, including links to his Barbecue Secrets blog, Facebook page, Twitter feed and YouTube channel at www.ronshewchuk.com.