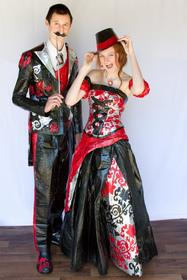 The 2013 Duck brand Stuck at Prom Scholarship Contest Grand Prize Winners, Caden and Ashton



AVON, OH -- (Marketwired) -- 07/12/13 -- Prom night has its share of unforgettable moments -- naming the King and Queen, that last slow dance, and laughing with your friends all night long. Today, Caden Kluge and Ashton Woolen, of Woodstock, Ga., can add another of those moments to their list, as they've been crowned the Grand Prize winners of the 2013 Duck® brand Stuck at Prom® Scholarship Contest.

Caden and Ashton used 250 hours of designing and 120 rolls of Duck Tape® to wow online voters and beat out 294 other entrants from across the United States and Canada to take the top prize. Their outfit was inspired by the Victorian era and earns Caden and Ashton each $5,000 in scholarship money, and the school that hosted the prom they attended, Sequoyah High School, also gets $5,000.

Stuck at Prom® invites high school students from the United States and Canada to create original, one-of-a-kind prom formalwear using Duck Tape®. Caden and Ashton secured the most votes among nine other Top 10 finalist couples during a competitive online voting period that started June 13. The Top 10 couples were selected by a panel of judges -- which included "Project Runway" Season 11 winner and celebrity judge Michelle Lesniak Franklin -- based on workmanship, originality, use of colors, accessories and use of Duck Tape®.

"Year after year, our Stuck at Prom® entrants raise the bar for originality and Duck Tape® fashion design, and this year's exceptional outfits did not disappoint. It's amazing to see these students so passionate about their designs, the Stuck at Prom® Scholarship Contest and Duck Tape®," said Ami DeWille, Senior Category Manager, Duck Tape®, at ShurTech Brands, LLC, the marketers of Duck® brand duct tape. "The Duck® brand team congratulates Caden and Ashton on their well-deserved win, and we look forward to seeing how their designs inspire students next year."

The couple's Duck Tape® inspiration started with a desire to create a look fusing Victorian style with modern day fashion. Caden and Ashton crafted a full, flowing skirt and bustle for the dress, as well as a suit with gentlemanly tails accompanied by a matching cane and top hat. The overall design and intricate vine-and-flower pattern resulted in a Duck Tape® creation that could grace the halls of a 19th-century ballroom or a 21st-century red carpet.

Second Place winners Liz Gazca and Josh Flader, from Gilbert, Ariz., captivated online voters with their unique, flame-inspired prom wear, and win $3,000 each in scholarship money, plus $3,000 goes to the school that hosted the prom they attended, Gilbert Classical Academy. Kristen Calfee, of Marrero, La., and Cody Hunter, of Terrytown, La., respectively, received Third Place honors with their butterfly-themed design, winning $2,000 each as well as $2,000 for Thomas Jefferson High School, which hosted the prom they attended. The seven remaining Top 10 couples and each school that hosted the prom they attended receive $500.