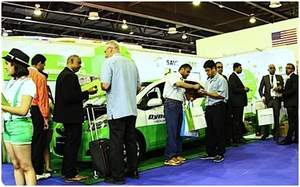 Visitors at the Automechanika Exhibition Savvy Green Booth


SANTA ANA, CA -- (Marketwired) -- 07/11/13 -- SaviCorp® (PINKSHEETS: SVMI)

Serge Monros, Founder, Chief Executive Officer/Chief Technology Officer, SaviCorp and Victor Chu, President, SaviCorp are pleased to announce a successful premiere of the DynoValve® at the Dubai Automechanika exhibition by DynoGreen Tech, SaviCorp's new exclusive middle-eastern distributor, and its wholly-owned subsidiary, Savvy Green.

The DynoValve® is a patented emissions system that improves ventilation of the blow-by gasses in the engine crankcase, leading to a reduction in harmful emissions, reduction in fuel consumption, increase in engine performance, and improves engine health by replacing the manufacturers' PCV (Positive Crankcase Ventilation) valve. Modulation of the ventilation is managed digitally through proprietary software in an upgradable, programmable controller.

Automechanika is renowned as the region's largest and most comprehensive trade and networking exhibition for the automotive aftermarket, garnering more than 1,324 exhibitors and well over 20,700 trade visitors. In addition to Dubai, Automechanika exhibits in Moscow, Istanbul, Frankfurt, Madrid, Shanghai, and Mexico City, among many others. As a result of Savvy Green's appearance at the show and the launch of its website, the DynoValve received over 19,000 "likes" on its new Savvy Green Facebook page within days. On the first day of the exhibition alone, approximately 1,000 DynoValves were sold and 400 distributors were signed up.

"Our technicians have just returned after successfully spending over two weeks in Dubai installing the first series of upgraded DynoValves in government fleet vehicles," explains Monros. "An additional 1,500 valves have already been placed over and above the initial 2,000 units specified in the original contract," he continues.

"Besides seeing extremely promising performance results in these 'DynoValved' vehicles, we experienced a very high degree of interest from many exhibition attendees; many of them being very influential persons," adds technician Mike Rockwood. The promising performance is due, in part, to recent DynoValve system upgrades, including a completely new controller, a redesigned harness, revised proprietary programming, and adaptor kits that are specifically designed to work in a wider range of vehicle applications. The upgraded hardware is now being shipped in new packaging as well.

Building off of this international momentum, SaviCorp President Victor Chu states, "Now that SaviCorp is receiving significant DynoValve orders, we've started working in earnest to expand our product line with the long-anticipated DynoValve Pro® for diesel engines, as well as the DynoValve Pro Lite for other fuel types."