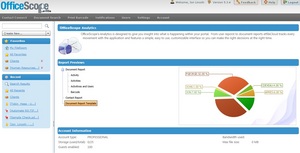 OfficeScope document management enables school systems to run paperless administration



WESTBOROUGH, MA -- (Marketwired) -- 07/11/13 -- OfficeScope, a cloud-based document management solution designed to empower paperless organizations, will be showcased at the upcoming Massachusetts Association of School Superintendents' Executive Institute, July 17-18, at Mashpee High School in Cape Cod. Powered by etfile, a premier workflow and document management solutions provider, OfficeScope enables instant storage of any document -- or email -- to the cloud, associating information with existing contact lists or embedded barcodes and providing full analytics reports on access and revisions. A free trial of OfficeScope is available at: www.officescope.com/pricing-editions.html

"Paper intensive organizations, such as schools and their administrative offices, are required to store files and documents for decades -- often within less than optimal conditions," said Mark Linton, CEO, etfile. "Locating specific files is often a labor intensive experience, not to mention safe-guarding files from natural or man-made hazards. OfficeScope offers educational professionals an easy means to integrate document management into the everyday workflow process while providing security and streamlining file management."

etfile designed OfficeScope to empower any educational institution with an affordable solution for document management. OfficeScope offers enterprise-level document management features with the scalability and simplicity of the cloud with such unique features as:

•Contact Connect: An intuitive method for filing and retrieval of any information. Contact Connect allows documents to be searched by faculty or student names as well as folders and key words, while bringing powerful Content Resource Management (CRM) functionality and tagged descriptions to further accelerate quick sorting of documents.

•ScanCloud: Offers advanced scanning solutions such as barcoding, zonal Optical Character Recognition (OCR) as well as mobile and front-end methods to help organizations streamline paper-filing and transition any document into digital format.

•Advanced Security and Analytics: Eliminates security complications associated with cloud-based document management via geo-replication and redundancy, user and departmental security permissions as well as full document audit reporting. In addition, 245-bit AES storage encryption eliminates the concern for unauthorized access.