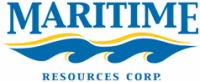 VANCOUVER, BRITISH COLUMBIA -- (Marketwired) -- 07/11/13 -- Maritime Resources Corp. (TSX VENTURE: MAE) ("Maritime" or the "Company") - announces that, further to the news release dated May 28, 2013, it has now filed the Technical Report, dated July 3, 2013, entitled "Technical Report and Resource Estimate on the Green Bay Property, Newfoundland, Canada". The Report was authored by Tetra Tech of Sudbury, Ontario in accordance with NI 43-101 guidelines.

Maritime is now commencing a work program as recommended in the Report. This summer's work will be to continue trenching at the eastern extension of the Rumbullion zones, sample and analyze mine water from the closed Hammerdown gold mine, and test metallurgical recoveries of gold from ore on the Green Bay property.

Maritime holds 100% of the Green Bay property which hosts the past producing Hammerdown gold mine and the Orion gold deposit separated by a 1.5 km distance. As a result of an expanded land position, Maritime now controls 51.7 square kilometres (12,775 acres) near Springdale in north-central Newfoundland.

Green Bay Gold Property NI 43-101 Mineral Resource Estimate:

The Resource is summarized below, at a 3 g/t cut-off grade, and shown in various cut-off grades in Table 1.


--  428,600 ounces of gold in the Measured and Indicated category--  661,100 ounces in the Inferred category            Table 1: SENSITIVITY OF RESOURCES TO GRADE CUT-OFF----------------------------------------------------------------------------------------------------------------------------------------------------Resource                                                 Grade        GoldCategory       Cut-off     Deposit           Tonnes    (g/t Au)    (Ounces)----------------------------------------------------------------------------------------------------------------------------------------------------                           HD, RM, MS       831,330      10.46     279,574               2 g/t Au    -----------------------------------------------                           Orion          1,581,500       3.87     196,776               -----------------------------------------------------------                           HD, RM, MS       727,460      11.59     271,072               3 g/t Au    -----------------------------------------------Measured and               Orion          1,096,500       4.47     157,582 Indicated     -----------------------------------------------------------                           HD, RM, MS       642,180      12.67     261,592               4 g/t Au    -----------------------------------------------                           Orion            630,500       5.24     106,220               -----------------------------------------------------------               5 g/t Au    HD, RM, MS       562,760      13.82     250,048                           -----------------------------------------------                           Orion            347,200       5.86      65,414------------------------------------------------------------------------------------------------------------------------------------------------------------------------------------------------------------------------------                           HD, RM, MS     2,204,000       6.64     470,513               2 g/t Au    -----------------------------------------------                           Orion          1,891,000       4.52     274,803               -----------------------------------------------------------                           HD, RM, MS     1,767,000       7.68     436,304               3 g/t Au    -----------------------------------------------                           Orion          1,288,000       5.44     225,272Inferred       -----------------------------------------------------------                           HD, RM, MS     1,336,000       9.02     387,440               4 g/t Au    -----------------------------------------------                           Orion            917,000       6.18     182,201               -----------------------------------------------------------                           HD, RM, MS     1,027,000      10.39     343,066               5 g/t Au    -----------------------------------------------                           Orion            692,000       6.75     150,176----------------------------------------------------------------------------------------------------------------------------------------------------HD = Hammerdown  RM = Rumbullion  MS = Muddy Shag