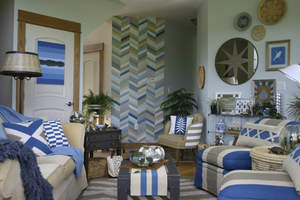 Penny Miller's living room transformation won $5,000 from FrogTape brand painter's tape's 2013 Earn Your Stripes room makeover contest.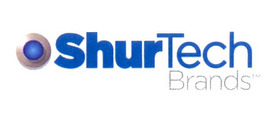 AVON, OH -- (Marketwired) -- 07/11/13 -- Homeowners were feeling inspired to paint this spring -- and hoping the hard work would pay off, winning them $5,000 as part of the third-annual FrogTape® brand painter's tape Earn Your Stripes® room makeover contest. From the nearly 200 contestants who showcased their creativity through DIY painting projects, a panel of judges selected three outstanding designs based on criteria of workmanship, originality and accessories. This year's Grand Prize Winner is Penny Miller from LaRue, Ohio. In second place, taking home $2,500, is Katja Kromann from Trabuco Canyon, Calif.; and in third place is Lisa Janvrin from Elkorn, Neb., who received $1,000 for her transformation.

Miller's winning makeover, "Eclectic Blue," completely transformed her living room. She used FrogTape Delicate Surface and Multi-Surface tape to breathe new life into a number of items, including a trunk, mirror, light fixtures and even dated furniture she purchased from thrift shops. The focal point of her space was a custom herringbone accent wall in various shades of blue, with neutral accents.

"Paint and painting tape are some of the easiest and most affordable tools for homeowners to use to transform a space," said Kristin Osinski, senior media manager, ShurTech Brands, LLC. "That was evident in the submissions from the 2013 Earn Your Stripes contest; not only were the projects inspiring, but the level of craftsmanship in Penny's winning design was extraordinary. It truly demonstrates how you can achieve professional-looking results for your DIY painting project with FrogTape."

Second place winner Kromann updated her stark, white entry hall with bright colors and cheerful patterns. She used FrogTape Multi-Surface to add arrows on the new turquoise walls, create stripes on baskets and a honeycomb pattern to a plain, beige rug.

"Nursery Dreamscape" -- this year's third place submission -- included a custom-designed, hand-painted cityscape mural, completed with FrogTape Multi-Surface. Janvrin transformed a dark, dated and cramped space into a bright, modern shared space.

"Since FrogTape is the only painter's tape treated with PaintBlock® Technology, homeowners were able to tackle challenging designs, without having to worry about hours of touch ups," Osinski added. "PaintBlock is a super absorbent polymer that reacts with the water in latex paint and instantly gels to create a micro-barrier that prevents paint bleed. FrogTape helped deliver crisp lines and amazing results for all of the Earn Your Stripes entrants."

In addition to the grand prizes, one additional "Best in Show" standout submission from each of the six categories received a $100 cash prize. The winners are:

•Kids Rooms & Nurseries: Amy Girouard, Rouch Rock, Texas •Kitchens & Bathrooms: Charlotte Brewer, Omaha, Neb. •Man Caves & Basements: Amie Daye, Oakville, Ontario •Bedrooms: Lia Voronkovich, Auburn, Wash. •Living & Dining Rooms: Kurt Lursen, Rolling Meadows, Ill. •Other: Lane Carver, Franklin, Tenn.