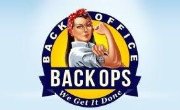 SAN FRANCISCO, CA -- (Marketwired) -- 07/11/13 -- BackOps, a back office as a subscription service platform, announced it has closed $7 million in Series A funding, raising capital from both existing and new investors. The new funds will allow the company -- the fastest-growing managed service provider for back offices -- to continue rapid expansion of its revolutionary platform that allows small- and medium-sized businesses (SMBs) to cost-effectively operate their enterprises.

The Series A round of funding is co-led by Sherpa Ventures and e.ventures and includes Google Ventures, with participation from existing seed investors including CrunchFund and Mark Pincus. This investment brings BackOps' total funding to nearly $9 million.

Concurrent with the funding news, Tim Whipple has joined BackOps as Vice President of Customer Success. Whipple is well known in the technology industry for his role in growing the LiveOps community of 20,000+ remote workers throughout the U.S. He will manage all aspects of BackOps' distributed workforce and help scale the workforce to help meet BackOps' aggressive growth goals.

The BackOps platform combines proprietary automated software and a highly educated stay-at-home workforce to allow companies to focus on running their businesses rather than their accounting, human resources and financial reporting systems. The subscription model frees companies from buying software and hiring employees and allows executives to focus on growing their businesses in a drama-free environment. Initially serving technology startups, BackOps is rapidly expanding into the medical and nonprofit fields.

"BackOps, our first investment from the Sherpa Ventures Fund, unlocks the same 'rent vs. buy' economies Scott and I saw in our early investments in Uber," said Shervin Pishevar, Co-founder of Sherpa Ventures. "Kristen, Mark, and their experienced team have developed a powerful software platform that delivers a world-class back office solution to SMBs through enabling and empowering a distributed workforce of highly educated and professional women to deliver their expert services directly to companies that need them the most. We believe BackOps is going to be a defining company in the sharing economy space and we are excited about helping fuel its incredible growth."

"Kristen and the BackOps team have built a company that is riding two Internet trends -- the disruption of high-friction businesses, and the sharing economy," said Blake Byers, partner at Google Ventures. "It's a perfect relationship between business owners who can now focus their time and energy on their customers, and stay-at-home professionals who welcome the opportunity to use their skill set."