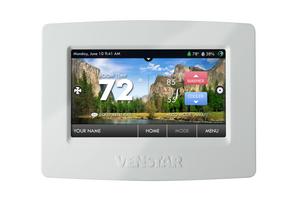 Venstar Adds Home and Away Buttons to ColorTouch Residential Thermostats for Easy, One-touch Programming



CHATSWORTH, CA -- (Marketwired) -- 07/10/13 -- Venstar®, a leading thermostat and energy management systems supplier, today announced that it has added "Home" and "Away" buttons to its ColorTouch® touchscreen programmable thermostats, giving users access to easy, one-touch programming.

"Venstar's new 'Home' and 'Away' buttons make it easy for users to instantly set their ColorTouch thermostats with just one touch," said Steve Dushane, Venstar's CEO. "One-touch buttons make the ColorTouch programmable thermostat even easier to use and control, which helps users save on their utility bills."

Users simply press the "Home" button when they arrive home, and the ColorTouch instantly goes to the pre-set occupied, comfort settings. Users press the "Away" button when they leave, and the thermostat will instantly go to the pre-set unoccupied status.

Venstar is also pleased to announce the new Supply Air Alert feature, which sends an email alert to the designated user when the supply air temperature (the air coming from the HVAC equipment) is not adequate. The user or installer can set temperature thresholds for both heating and cooling. If the HVAC equipment fails to meet one of these thresholds, it is a strong indicator that service is needed.

This new update comes standard with new ColorTouch residential thermostats (T5900 model). Previous ColorTouch models T5800 can be updated. Anytime a new update is available, a notification will appear on the thermostat screen along with simple prompts to help the user make the update.

Venstar also recently (6/13/13) announced the new Skyport™ firmware upgrade button, which allows users to remotely update the firmware for their ColorTouch thermostats anywhere in the world using the Skyport Cloud Services online. This applies to any Wi-Fi update.

Venstar also offers a free ColorTouch mobile application, which allows users to remotely monitor and control their ColorTouch residential or commercial thermostats. Compatible with Apple iPhone®, iTouch®, iPad®, BlackBerry® and Android™ devices, the ColorTouch thermostat with Skyport Wi-Fi Key is priced under $250 (estimated end-user cost).

About ColorTouch Residential Thermostat (Models T5800 and T5900)

The ColorTouch thermostat has won top awards for ease of programmability, its color touch screen and the ability to post up to 100 photos or graphics on the screen. Its multi-functional, simple-to-use, richly featured, programmable touch screen thermostat has customizable backgrounds, which may include the users' own photos as well as more than a dozen pre-set themes, including holiday themes. The ColorTouch residential model T5900 is now available with humidity control.