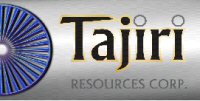 VANCOUVER, BRITISH COLUMBIA -- (Marketwired) -- 07/10/13 -- Tajiri Resources Corp. (the "Company")(TSX VENTURE: TAJ) is pleased to announce the discovery of a significant new lode gold system during drilling at the Company's wholly-owned Kaburi PL Gold Project, Mazaruni District, Guyana, South America; and to provide this summary of results from the over 3,100 metres of Reverse Circulation ("RC") drilling completed during the Spring 2013 exploration campaign.

Best results returned from the 2013 program were achieved in holes KRC-13-13 which intercepted 22 metres of 2.69 g/t Au from 8 metres to 30 metres, including 10 metres of 5.13 g/t Au from 8 to 18 metres; KRC -13- 25 which intersected 8 metres at 6.48 g/t Au from 6 metres to 14 metres, including 2 metres at 25.50 g/t Au from 6 metres to 8 metres; and hole KRC-13-32 with 11 metres grading 1.08 g/t Au from 2 metres to 13 metres including 1 metre of 7.94 g/t Au from 2 metres to 3 metres and 11 metres of 1.37 g/t Au from 32 metres to 43 metres including 2 metres of 5.19 g/t Gold from 39 to 41 metres. The above holes were located on three separate drill fences spaced approximately 100 metres from one another which would indicate a mineralized strike in excess of 300 metres associated with presumed contact of the Aurora-Gem Creek Shear Zone where it transects the Kaburi PL. The 2013 drilling program was successful in identifying and testing the interpreted gold mineralized trend on the Kaburi PL and this trend remains open on strike for follow up exploration.

Mr. Graham Keevil, President and CEO stated, "The Company is extremely pleased with the results from our first ever drill campaign at the 100%-owned Kaburi PL Gold Project. These results represent the newest gold discovery within the West Omai Gold Camp, an area quickly becoming one of the most exciting gold exploration districts in recent memory. Not only has the existence of substantial near surface gold been proven as a result of our efforts, but the locality is such that it is immediately adjacent to Troy Resources West Omai Gold deposits, where both Smarts/Hicks are subject to planning for immediate mine development."

"In addition to being in and of itself an impressive first pass drill effort, our higher grade intersections appear to be consistent with those discovered at the Smarts Deposit, some 2.5 km to the Kaburi PL's south-east, where 1.02 million ounces are inferred(i) at an impressive 4.02 g/t Au and represent part of the West Omai assets recently acquired by Troy Resources for approximately US$200 million. Tajiri was able to take the Kaburi PL from a grassroots, greenfield exploration asset as of July 2012 to a significant gold discovery in less than one calendar year, and considers it a testament to its ability to efficiently deploy capital to projects of merit in order to add optimal value for all stakeholders. Having now achieved this level of exploration success at such an early stage in the Company's existence the Board looks forward to continued drill efforts at Kaburi as well as this summer's drilling at our highly prospective OGK Copper-Gold Project in British Columbia" Mr. Keevil added.