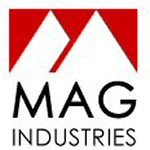 TORONTO, ONTARIO -- (Marketwired) -- 07/10/13 -- MagIndustries Corp. (TSX: MAA) (the "Company" or "MagIndustries"). Further to its press release of March 18, 2013 indicating that a "Framework Agreement" had been entered with East China Engineering Science and Technology Co., Ltd. ("ECEC") MagIndustries, is pleased to report that a General Construction Contract (the "General Contract") was signed by the two parties yesterday. Under the General Contract ECEC will provide a range of services related to the planning, construction and performance of the Company's proposed 1.2 million tonnes per annum Mengo Potash Project in the Republic of Congo (the "Project"). The signing of the General Contract is a very important milestone for the Company toward achieving its ambitions to be a major potash producer for worldwide markets.

Terms and conditions in the General Contract

The main terms of the General Contract place responsibility on ECEC for overall planning, project management, design management and coordination; procurement, construction, installation, testing of equipment, materials and integrated systems and commissioning. ECEC will complete all work specified, be responsible for progress and quality of the Project plant and guarantee safe and effective completion of the Project while abiding by all applicable laws and regulations.

MagIndustries will provide technical documents and information, fulfill payment obligations and execute other work within its responsibilities while monitoring the implementation of the General Contract.

The General Contract comes into effect when the General Contractor has provided to the Company a performance guarantee registered with a bank which may be demanded by the Company in the event of non-performance of certain obligations specified in the General Contract.

Key Terms of the Mengo General Contract


1. Contracting     Owner - MagIndustries Corp. and /or MagMinerals Potasses Parties           Congo SA                   General contractor - East China Engineering Science and                   Technology Co., Ltd.2. Project         1.2 million tonnes per annum Mengo Potash Project in the                   Republic of Congo3. Project         This Project is composed of seven major modules, covering Portfolio         a total of thirty-eight (38) installations/systems. The                   major works are: brine extraction and transportation,                   processing plant, compaction plant, thermal power plant,                   office/living quarters, off-plant works and jetty.4. Estimated       Pre-construction commenced in March 10, 2013; completion Construction      and handover is planned for March 31, 2016 contingent on Period            completion of a project finance package.5. Scope of Work   The general contractor is responsible for the general                   implementation planning, general management of the whole                   Project, designing management and coordination,                   procurement of equipment and materials (procurement of                   some key pieces of equipment remains with the Company,                   while management responsibility shall be attributable to                   the General Contractor), construction, installation, solo                   test run, test running, organization of commissioning and                   provision of device performance guarantees. Exploration                   related activity, construction of the loading jetty and                   installation of related equipment; well work;                   construction of the owners' independent office and living                   area are not currently included in the General                   Contractor's scope of work, but might be assigned to it                   at a later stage.6. Contract        This Contract Price includes both a fixed component, of Price             approximately USD$497 million and a non-fixed component                   of approximately USD$24.5 million, as an incentive to the                   General Contractor for timely completion and quality of                   work. Progress payments will be made quarterly. The                   Contract Price will be adjusted if changes are made to                   the scope of work.