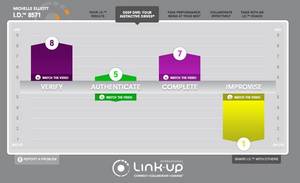 Link-up's Interactive I.D. Experience offers unique, personalized videos for every person who takes their I.D.


SANTA CLARA, CA -- (Marketwired) -- 07/10/13 -- Link-up International's I.D. System® is unlike any other profiling tool on the market, and its new video-based technology continues to set it apart. Link-up International, which partners with global organizations to enhance collaboration and accelerate business results, has partnered with Denver-based Influence Technologies to create the Interactive I.D. Experience™, including unique, personalized videos for every person who takes their I.D. Link-up is offering 200 free I.D.s, a value of $99 each, to help business leaders experience what Link-up can offer organizations. To take advantage of this offer, go to InstinctiveDrives.com and fill in the "Contact Us" form with "FREE200" in the subject field.

The I.D. System, which is used by companies and individuals alike, allows people to learn and use strategies focused on improving leadership, organizational change, peak performance, personal change and relationships. This new technology offers a much more scalable delivery method, allowing organizations to easily bring I.D. into entire organizations.

Once someone takes their online I.D. Questionnaire, Link-up now delivers:

•An updated personalized I.D.™ Report: This report offers key insights, awareness and understanding into a person's natural and best way of operating. It also provides strategies for how to be successful, fulfilled and productive.

•The brand new, personalized Interactive I.D. Experience: This self-paced experience helps new users understand and use their I.D. and explore: what they need to be at their best; what will cause them stress and frustration; their natural talents and vulnerabilities; insights and strategies to help them achieve greater and more sustainable peak performance. It also includes the ability to generate strategies on the best ways to work with other I.D.s.



"In my decades of experience, I haven't seen another organization offer personalized technology like this, delivering applicable information to any number of people," said Jeff Swaim, Chief Strategy Officer of Influence Technologies. "The analytics that we've already collected indicates that the I.D. user experience has been drastically improved; and leaders are thrilled that they can make a deeper impact within their organizations."