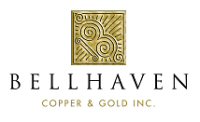 VANCOUVER, BRITISH COLUMBIA -- (Marketwired) -- 07/10/13 -- Bellhaven Copper & Gold Inc. (TSX VENTURE: BHV) ("Bellhaven" or the "Company") is pleased to announce that the latest drill hole completed at La Garrucha prospect, LME-1103, delivered 311 m of 0.84 g/t gold and 0.10% copper (1.00 g/t gold equivalent). Contained within this long intercept is a higher-grade subzone of 85 m averaging 1.20 g/t gold and 0.17% copper (1.47 g/t gold equivalent). The 311-m long intercept is the longest drilled to date at La Mina, eclipsing the 257-m long intercept averaging 0.84 g/t gold equivalent recorded from LM-DDH-025 at La Cantera prospect located less than one kilometre away (see press release dated June 28, 2011).

See Tables 1 and 2 below for a complete list of the multiple intercepts contained in LME-1103. For figures showing a plan map and cross section highlighting the new drill hole announced in this press release, please use the following link: http://media3.marketwire.com/docs/BHV0710.pdf

The new hole is drilled along Section M, the same section where drill holes LME-1100 and -1102 were drilled (see press releases dated June 5 and 27). These three holes indicate that gold and copper mineralization above the 0.4 g/t gold equivalent cut-off grade extends downward from approximately 1950-m elevation to 1475-m elevation for a vertical distance of approximately 475 m (see Fig 4). Within this 475-m vertical zone is a 275-m vertical zone containing gold grades at-or-above 1 g/t.

Julio Benedetti, Bellhaven's CEO and Chairman, commented as follows:

"We are pleased to see that the latest drill hole from La Garrucha has delivered the longest intercept ever recorded at La Mina and the first to exceed 300 m. This is rather remarkable as this is only the fourth hole of the drilling campaign. This hole is important because it shows how quickly tonnes and ounces can be added to the prospect."

"The project remains open to the east as well as to the north and south. We are now drilling LME-1104 on Section L, located 50 m to the southeast of Section M (where LME-1103 was drilled). This hole is our first attempt to gauge the eastern boundary of the gold-copper zone and is also located closer to the center of the airborne magnetic anomaly. For these two reasons, this is an important drill hole."

"Each drill hole at La Garrucha is boosting our confidence in the project. We look forward to announcing the results of the current hole, LME-1104, in the weeks ahead."

In accordance with National Instrument 43-101, it is noted that the potential quality and grade at La Garrucha is conceptual in nature, that there has been insufficient exploration to define a mineral resource, and that it is uncertain if further exploration will result in a target being delineated as a mineral resource.

Discussion of Drilling Results

LME-1103 was drilled on the same platform as the first three holes of the drilling campaign. It was collared on June 15th and completed on July 1st after reaching a down-hole depth of 565 m (see Table 2). The drill-hole was designed to constrain the G4 porphyry and the eastern margin of the gold-copper zone cut previously by LME-1100 and -1102. The results from the drill hole indicate that the porphyry gold-(copper) deposit is tilted to the east and as such, the hole drilled parallel-to-subparallel to the plunge of the gold-(copper) zone, never passing out of the G4 porphyry (See Fig. 4).