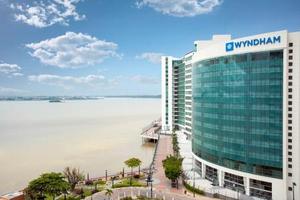 El Wyndham Guayaquil, con 179 habitaciones, localizado en el centro de la ciudad de Guayaquil, a lo largo del Río Guayas, es el primer hotel en Ecuador en izar la bandera de la marca Wyndham Hotels and Resorts(R) y el quinto hotel de Wyndham Hotel Group en el país.


GUAYAQUIL, ECUADOR -- (Marketwired) -- 07/01/13 -- Wyndham Hotel Group, la empresa hotelera líder mundial con aproximadamente 7.380 hoteles y parte de Wyndham Worldwide Corporation (NYSE: WYN), celebró hoy su continua expansión en América Latina con la adición del hotel Wyndham Guayaquil de 179 habitaciones en Ecuador, marcando el lanzamiento de la marca de lujo Wyndham Hotels and Resorts® en el país sudamericano.

El hotel de 5 estrellas recientemente construido en Guayaquil es el quinto hotel en abrir bajo un acuerdo entre Wyndham Hotel Group y el grupo propietario del hotel, Nobis, para la franquicia de ocho hoteles adicionales en el país que izarán las banderas de Wyndham Hotel Group en los próximos 10 años. El nuevo hotel Wyndham®, localizado en el centro de la ciudad frente al agua, se une a la propiedad hermana recientemente renovada Howard Johnson Hotel Guayaquil, uno de los cuatro hoteles Howard Johnson® de propiedad de Nobis y actualmente operando en Ecuador.

La apertura de Wyndham Guayaquil impulsa los planes del Wyndham Hotel Group de expandir sus ofertas para los viajeros en América Latina y traer la marca Wyndham a los principales mercados a lo largo de Centro y Sudamérica. En diciembre de 2012, la compañía añadió sus primeros dos hoteles Wyndham en Costa Rica y recientemente anunció planes de dar la bienvenida a los primeros hotelesWyndham en Colombia y Nicaragua al portafolio de la marca a sus aperturas programadas para 2014.

"El lanzamiento de nuestra marca insignia en un mercado emergente como Ecuador, y en uno de los centros de negocios y de viajes de mayor movimiento del país, es muy emocionante para nuestra empresa", dijo Daniel del Olmo, vicepresidente senior y director general de Wyndham Hotel Group para América Latina. "Wyndham Guayaquil ofrecerá a los viajeros la oportunidad de disfrutar nuestra cultura de servicio ¡'Cuenta conmigo'! ('Count On Me!'), centrada en el cliente y también ofrecerá los servicios y las comodidades confiables que necesiten durante su estadía. Nos sentimos honrados de trabajar con un socio respetado como Nobis para ayudarnos a proveer a los viajeros en la región extraordinarias experiencias y opciones de alojamiento de calidad".