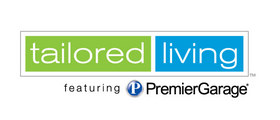 ORANGE, CA -- (Marketwired) -- 07/01/13 -- The U.S. Department of Energy released findings that stated 25 percent of people with two car garages don't park any cars in that space and a mere 32 percent only park a single car. Now, the reason for this could be because many people use their garage as an exercise room or home gym, but the more likely reason is that there isn't enough room for the cars due to the excess clutter contained within.

Does this sound familiar to you? Do you and your family fall into this category? If so, there are garage storage solutions you can implement to reclaim the space in your garage for its intended purpose of storing a car. If you open your garage door and become disheartened to organize because there is just SO much clutter, then follow these simple steps from your friends at Tailored Living to help you get a garage organization system specially designed for your needs.

Before you start organizing, take a brief look at everything in your garage and determine which items are absolutely necessary and then decide on what objects can be stored and finally determine which you definitely don't need. At this phase, if you're asking yourself, "But how will I know if I need it for sure or not?" Then ask yourself a few questions. Is it broken? Have I used it at all in the past year? In the case of old clothing, toys and knick-knacks, ask yourself, would someone in need make better use of this? The answers to those questions will help you determine whether to donate or recycle your excess clutter.

Once you have decided what you need and what you don't need, think about how you can implement various garage organization ideas to store your items. Some of those garage organization tips include:

Garage Cabinets

•Customized garage storage cabinets are one of the best ways to keep important garage items like power tools or crafting equipment items safe from children behind closed doors.