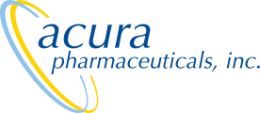 PALATINE, IL -- (Marketwired) -- 07/01/13 -- Acura Pharmaceuticals, Inc. (NASDAQ: ACUR), a specialty pharmaceutical company innovating abuse deterrent drugs, today announced that Pfizer Inc. (NYSE: PFE) will expand commercialization of OXECTA® (oxycodone HCl) Tablets CII to health care providers in the 4th quarter of 2013. These activities will be directed to a national cross section of healthcare professionals who treat pain, but will not include the use of field representatives.

"We are pleased Pfizer is advancing the commercialization plan for OXECTA," said Bob Jones, president and chief executive officer of Acura Pharmaceuticals.

Acura has exclusively licensed its AVERSION® Technology to Pfizer in the United States, Canada and Mexico for use in OXECTA. Acura receives tiered royalties ranging from 5% to 25% on net sales (gross sales less discounts, if any) of OXECTA.

About OXECTA

OXECTA is indicated for the management of acute and chronic moderate to severe pain where the use of an opioid analgesic is appropriate. OXECTA is the first immediate-release oxycodone HCl tablet that applies AVERSION technology. The U.S. Food and Drug Administration (FDA) approved OXECTA in June 2011.

OXECTA Important Safety Information
OXECTA is contraindicated in patients with respiratory depression in unmonitored settings and in the absence of resuscitative equipment, in any patient who has or is suspected of having paralytic ileus, in patients with acute or severe bronchial asthma or hypercarbia, and in patients with known hypersensitivity to oxycodone, oxycodone salts, or any components of the product.

Respiratory depression is the primary risk of OXECTA. This is more common in elderly or debilitated patients, in those suffering from conditions such as COPD, severe asthma, or upper airway obstruction, or following large initial doses of opioids given to non-tolerant patients.

OXECTA contains oxycodone HCl, an opioid agonist and a Schedule II controlled substance. Such drugs are sought by drug abusers and people with addictions. OXECTA can be abused in a manner similar to other opioids and narcotics. This should be considered when prescribing or dispensing oxycodone HCl in situations where the physician or pharmacist is concerned about an increased risk of misuse or abuse. OXECTA may be abused by crushing, chewing, snorting or injecting the product. These practices pose a significant risk to the abuser that could result in overdose and death. OXECTA should not be given to anyone other than the individual for whom it was prescribed. Keep OXECTA in a locked cabinet, drawer or medicine safe so that it will not be stolen.

There is no evidence that OXECTA has a reduced abuse liability compared to immediate-release oxycodone.

Take each OXECTA tablet with enough water to ensure complete swallowing immediately after placing in the mouth, and OXECTA must be swallowed whole. As OXECTA is not amenable to crushing and dissolution, do not use OXECTA in nasogastric, gastric or other feeding tubes as it may cause obstruction of feeding tubes.