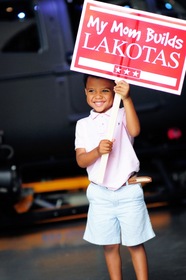 American workers and their families in Texas and Mississippi have rallied to urge Congress to restore funding for the UH-72A Lakota helicopter, which is built by a workforce that is more than 50 percent U.S. military veterans.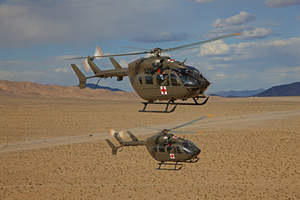 The UH-72A Lakota helicopter has the lowest cost to buy, own and operate of any U.S. military aircraft in production, and every Lakota has been delivered on time and on cost.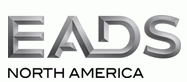 GRAND PRAIRIE, TX -- (Marketwired) -- 06/07/13 -- U.S. Representatives Joe Barton and Marc Veasey joined leaders of American Eurocopter, EADS North America and Turbomeca at a rally Friday to call on Congress to restore funding for the Army's UH-72A Lakota helicopter in the Fiscal Year 2014 budget.

The rally took place at EADS North America's American Eurocopter facility in Grand Prairie, Texas, where more than 600 Texans work. American Eurocopter performs all engineering changes for Lakota modifications and upgrades in Grand Prairie, and also trains Lakota pilots and maintainers from the Army, Army National Guard and Navy.

The Lakota is manufactured by American Eurocopter in Columbus, Miss., by a 300-person workforce that is more than 50 percent U.S. military veterans.

Proposed cuts in the 2014 budget submitted to Congress in April would reduce production of the Lakota in 2014-2015 by 31 fewer aircraft than the Army planned to buy. These cuts, which would result in negligible savings, would effectively end Lakota production by the end of 2014 and endanger the jobs of hundreds of American workers.

Every one of the 267 Lakota helicopters delivered to date has been on time and on budget. The Lakota has been cited by the U.S. Department of Defense as a model defense acquisition program and is one of the most successful, cost-effective aircraft procurement programs in history.

"The Lakota has been a great helicopter for the U.S. Army. Far too many projects are completed over budget and past deadline but the Lakota program has proved to be consistent and effective," said Rep. Barton, who serves Texas' Sixth Congressional District. "Much of that success is because of the hard work and expertise of those in the Great State of Texas and particularly the Sixth District.

"I am working with my colleagues in the House to have a study conducted to find additional ways the Lakota can be used to protect both the budget and the security of our nation," Rep. Barton said. "I am hopeful my proposal for a study will be included in the final version of the Department of Homeland Security Appropriations Act."

"The Lakota helicopter program is critically important to the country's national security and in this time of severe budget cuts, must be protected," said Rep. Veasey, of Texas' 33rd Congressional District. "These cuts are hurtful and damaging -- they hurt families who rely on these jobs and DFW businesses that work with the program.