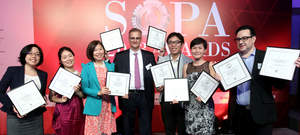 Post prizewinners with managing editor Brian Rhoads (centre) are (from left) Lana Lam, Charlotte So, Denise Tsang, Teddy Ng, Ting Shi and Adolfo Arranz.Photo: Edward Wong



HONG KONG -- (Marketwired) -- 06/07/13 -- The South China Morning Post picked up a total of 11 editorial awards including four top prizes and seven honourable mentions in this year's Society of Publishers in Asia Editorial Awards, which were presented at a gala dinner at Hong Kong Convention and Exhibition Centre on June 6.

An ensemble team from the SCMP won one of SOPA's most prestigious prizes, the Scoop award, for a groundbreaking series of articles last year on China's 18th Party Congress leadership transition. Among the articles was an exclusive report on the line-up of the seven men who would form the elite Politburo Standing Committee -- a story which was published before the secretive Congress even opened. Another included a scoop on a Ferrari car crash in March last year and the cover-up of a scandal involving then-President Hu Jintao's top aide Ling Jihua, which led to his political demise.

Two China environmental issue stories penned by reporter Shi Jiangtao inspired the judges to present the award of Excellence, one for the article "Sold down the river" in the Feature Writing category and another for Shi's two-part series "Toxic", which probed one of the worst mainland cadmium contamination incidents in decades, which picked up the award in the Reporting on the Environment category.

Simon Scarr's information graphic on the breakdown of electricity consumption in brightly-lit and air-conditioned Hong Kong won another well deserved award of Excellence. Scarr also won an honourable mention in the same category with "Arteries of the city".

Further China reports that caught the judges' eye included one from reporters Denise Tsang and Charlotte So, from the business team. Their three-part series "Dongguan, deserted boom town" secured an honourable mention in the Business Reporting category. Verna Yu and Teddy Ng, both from the national desk, won an honourable mention in the category of Reporting Breaking News with their series "Escape from China", which covered the daring escape to New York of blind legal activist Chen Guangcheng from 19 months of house arrest in a remote village in eastern China. Fiona Tam also won an honourable mention in the Human Rights Reporting category for "Maimed in China".

Reporter Lana Lam secured an honourable mention in the same category for her "Libyan rendition" series, and Post Magazine art director Lee Wing-yam won an honourable mention in the category of Magazine Design with "Breaking in", for a cover story on the mainland blogosphere published in November.

Cartoonist Harry Harrison won an honourable mention with "The Handover", a stunningly detailed celebration of the 15th anniversary of the handover of Hong Kong to Chinese rule in 1997.