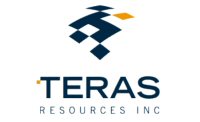 CALGARY, ALBERTA -- (Marketwired) -- 06/06/13 -- Teras Resources Inc. ("Teras" or the "Company") (TSX VENTURE: TRA)(OTCQX: TRARF): Teras is pleased to report the results of a magnetotelluric (MT) survey recently conducted at the Cahuilla gold/silver project in Imperial County, California. The MT survey, conducted by Zonge International, is remarkably positive and has identified multiple apparent new precious metal targets including the potential location of deep high grade feeder zones throughout the project area.

The following cross sectional illustration showing the MT resistivity image (looking toward the west) identifies high-resistivity (white to blue) silicified rocks associated with the existing near-surface NI 43-101 resource which is outlined by the blue line. In addition to delineating resistive rocks associated with the known mineralization, the MT survey has recognized a major structural feature, likely the mineralized Modoc Fault zone, which extends beneath the near-surface mineralization. Zones of high resistivity suggest that silicification extends to depth along this major structure and may represent the source or pathway for the shallow disseminated and high-grade vein precious metal mineralization that has been delineated in the gold/silver resource area.

This type of structural geometry is of extreme importance and expected for high-grade epithermal vein targets that have been encountered in numerous epithermal precious metal deposits throughout the world. Commonly in this type of epithermal or "shallowly emplaced" precious metal system, gold-and silver-rich hydrothermal fluids are focused in structural zones or faults below the more widespread disseminated mineralization within a feeder zone or "throat", which is interpreted as the primary target on the MT section above. The Cahuilla project has never been tested to depths where these feeders would be expected to occur and the main objective of Teras' next drill program is to explore many of these newly identified targets.

The extensive, buried resistive body to the south (left side of the diagram) was not recognized until Teras received the recent MT results from Zonge. This high-resistivity feature delineates a large, new target in an area that will be approved for drill testing in the next phase of permitting, which is currently in progress. This significant geological feature may represent intrusive and/or silicified rocks that are genetically related to the rhyolite intrusives and tuffs that are identified within the Cahuilla precious metal mineralizing system.

Peter Leger, President and CEO of Teras Resources, remarked "We are extremely pleased with the results of our geophysical surveys and have identified multiple high quality target areas while focusing on deeper high grade feeder zones that could significantly increase our gold/silver resources and enhance the overall grade of the deposit. The geophysical results along with additional technical data generated by our management team and highly qualified specialized consultants impart high confidence that the project has the capability to be world class and we are aggressively moving forward to achieve our goals."