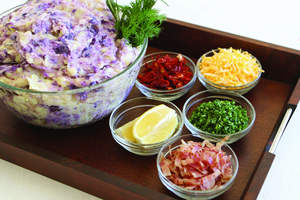 Smashed Potato Bar


MISSION, KS -- (Marketwired) -- 06/06/13 -- (Family Features) French fries are one of a kid's favorite things to eat. But there's a whole lot more that can be made from delicious, nutritious potatoes.

"I love the versatility of Florida potatoes," said Chef Justin Timineri, Executive Chef and Culinary Ambassador, Florida Department of Agriculture and Consumer Services. "There are so many different kinds of potatoes that can be flavored in just about any way you like. Get the kids into the kitchen with you and experiment with making potato dishes the whole family will enjoy."

You can find more recipes that will have the kids saying, "Pass the potatoes, please!" at http://bit.ly/flpotato.

Super Spuds
Florida potatoes are a good source of potassium (for your muscles and growth), vitamin B6 (to help fight illness and help your nerves function), and fiber (for digestion). Most of the nutrients are right under the skin -- leave the skin on whenever possible.



Smashed Potato BarYield: 4 servings2         pounds Florida potatoes, washed and quartered1/2       cup milk, warmed2         tablespoons unsalted butter1/2       cup plain yogurt or light sour cream          Sea salt and fresh ground pepper to taste
Place potatoes into a soup pot and add water until they are completely covered. Lightly salt water and place over medium high heat. Cook potatoes for 15 to 25 minutes until they are soft, but not falling apart. Carefully drain the water and return them to the pot they were cooked in.
Kids Can: Use a potato masher to achieve desired texture, being careful not to work the potatoes too much.
Kids Can: Add milk, butter and yogurt to mashed potatoes. Stir ingredients to combine. Taste mashed potatoes and season them with salt and pepper. Add any extra flavorings or toppings and serve warm.
Potato Bar Toppings
--Low fat yogurt or low fat sour cream
--Chives/scallions
--Cheese
--Bacon bits
--Fresh herbs
--Sun-dried tomatoes
--Lemon
Chef Justin's Tips
--Use a combination of purple, yellow and red potatoes to make multi-colored mashed potatoes.
--Leave the skin on the potatoes for extra nutrients.
--Don't over-mash the potatoes; overworking can cause them to become gummy.
Potato and Green Bean SaladYield: 10 servings1/2       pound Florida green beans, washed, ends trimmed and cut into          thirds2         pounds Florida potatoes, washed, peeled and diced large1/2       cup low-fat mayonnaise2         lemons, juiced1/4       cup olive oil3         bell peppers, seeded and diced small1         cup fresh parsley, chopped fine1         red onion, diced small          Sea salt and fresh ground pepper to taste
Kids Can: Snap the ends off the beans and break them into thirds.
Fill medium-sized mixing bowl halfway with ice and water; set aside.
Fill large sized stock pot 3/4 full with lightly salted water. Bring to rolling boil over medium-high heat. Add green beans to boiling water and let cook for 2 to 3 minutes. Using a hand strainer, remove green beans from boiling water and place into the ice water to stop them from cooking. After the green beans have cooled down, remove them from the ice water and set aside.