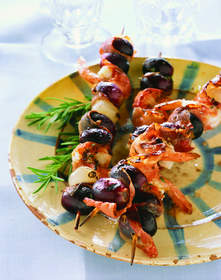 Grilled Antipasto Skewers


MISSION, KS -- (Marketwired) -- 06/06/13 -- (Family Features) Crisp, juicy and sweet, grapes are a real crowd-pleaser. Even better, all three colors of grapes -- red, green and black -- are good for you.

Grapes are a natural source of beneficial antioxidants and other polyphenols. Current research suggests that grapes may help maintain a healthy heart, and may also help to defend your cells against a number of age-related illnesses. Scientists are also working to uncover more links between grapes and eye health, brain health, joint health, and more. At just 90 calories per 3/4 cup serving, grapes are a sensible, delicious snack with no fat or cholesterol.

People love to eat grapes fresh for a refreshing snack, but grapes also add sweet, juicy, crunch and color to salads, entrees and desserts. Here are six fun, flavorful ways to enjoy California grapes:

•Layer -- California grapes are juicy, nutritious and beautiful in breakfast parfaits. •Roast -- Just like when you roast vegetables, grapes also caramelize, yielding a flavor that is wholly unique. You can top your dish with roasted grapes as is, or turn them into a luscious sauce. •Grill -- Oh yes! You can thread them on a skewer with other fruits, like pineapple and mango, vegetables, fish, meat and poultry. Grapes can handle the heat, not only from the coals, but also from a spicy marinade or rub. •Clip -- The best way to present grapes on a fruit platter or as a (truly edible) plate garnish is to clip them into smaller clusters. Grapes provide height, coverage, color and simply great taste. •Dip -- Rich chocolate -- dark, milk, white, flavored -- and grapes make a delightful pairing. •Grab-and-Go -- Pack them up for a snack or as an accompaniment to sandwiches and wraps.

Here is a selection of recipes that show how grapes can add flavor, texture, color, and nutrition and health-promoting properties to appetizers, salads, and sides. Note: Sometimes when a recipe seems too "healthy" to appeal to picky eaters, grapes have a way of making these preparations taste better and look more appealing.

To learn more about grapes from California, visit www.grapesfromcalifornia.com or www.facebook.com/grapesfromcalifornia.

Keeping Hearts Healthy
According to research from the University of Connecticut, funded by the California Table Grape Commission, eating grapes may help protect heart health in men with metabolic syndrome. In the study, men with metabolic syndrome who consumed grapes lowered their key risk factors for heart disease.

Metabolic syndrome is a cluster of conditions that occur together -- high blood pressure, high blood sugar, excess abdominal fat and increased blood triglycerides -- significantly increasing the risk for heart disease, stroke and diabetes.

Eating a variety of grapes may contribute to heart health by:

•Promoting healthy blood flow •Reducing oxidative stress •Improving blood lipids •Decreasing inflammation


Grilled Antipasto SkewersYield: 12 skewers24 shrimp (31-40 size), peeled and deveined3/4 pound red or black California seedless grapes1 8-ounce jar cocktail onions3 ounces prosciutto, each piece sliced into long ribbonsMarinade:1 clove garlic, crushed1 tablespoon balsamic vinegar1/2 teaspoon fresh rosemary, chopped1/4 teaspoon salt Black pepper, freshly ground4 tablespoons olive oil
Soak long bamboo skewers in water for at least 5 minutes. Thread skewers with 2 shrimp, 6 grapes and 2 onions, with a ribbon of prosciutto winding throughout. Place the finished skewers in shallow dish or plate. To make marinade, whisk together garlic, vinegar, rosemary, salt and pepper and gradually add the oil. Evenly dab on half of marinade with a brush. Let marinate in refrigerator for at least 30 minutes and then brush with remaining marinade. Grill on a hot fire for 2 minutes per side. Serve immediately.
Nutritional analysis per skewer: Calories 92; Protein 4 g; Carbohydrate 7.5 g; Fat 5 g (Saturated Fat .8 g); 49% Calories from Fat ; Cholesterol 24 mg; Sodium 122 mg; Fiber .57 g
Bulgur Salad with Grapes and KaleServings: 62 cups water1 cup bulgur Kosher salt1 cup pecan halves, toasted and roughly chopped2 cups seedless California grapes, halved2 cups packed kale or Swiss chard leaves, finely slivered1/2 cup Italian parsley, chopped1/4 cup scallions, thinly sliced1/4 cup lemon juice2 tablespoons extra virgin olive oil2 teaspoons lemon zest, finely grated Pinch cayenne Black pepper
Bring 2 cups of water to a boil in a medium saucepan. Stir in bulgur and 1/2 teaspoon salt and remove from heat. Cover and let stand 20 minutes or until most of water is absorbed. Drain well and press to extract any excess water. Let cool and stir in the remaining ingredients. Season well with salt and black pepper. Serve room temperature or chilled.
Nutritional analysis per serving: Calories 289; Protein 5.8 g; Carbohydrate 33 g; Fat 17 g (Saturated Fat 1.8 g); 50% Calories from Fat; Cholesterol 0 mg; Sodium 181 mg; Fiber 7.3 g
Spicy Grape and Chicken Lettuce CupsServings: 4 as an entrée or 8 as an appetizer1 tablespoon cornstarch1 tablespoon water3/4 cup low sodium chicken broth1 tablespoon sugar1 tablespoon red wine vinegar3 to 5 teaspoons Asian chili paste with garlic1/4 cup low sodium soy sauce1 tablespoon peanut or vegetable oil6 cloves garlic, minced3 tablespoons fresh ginger, minced1 1/2 pounds ground chicken breast1 1/2 cups halved green California seedless grapes3/4 cup green onions, thinly sliced1 head iceberg lettuce, cut in half and separated into leaves1/4 cup cilantro, coarsely chopped1 1/2 cups julienne cucumber
In small bowl, combine cornstarch and water. Add chicken broth, sugar, vinegar, chili paste and soy sauce. Set aside. Heat oil in large nonstick skillet over high heat. Add garlic and ginger; sauté for 30 seconds. Add chicken and cook until no longer pink, about 5 to 8 minutes. Add grapes and green onions; sauté for 30 seconds. Restir the sauce mixture and pour into skillet. Stir until thickened, about 1 to 2 minutes. Remove from heat. Place chicken mixture in lettuce leaves; garnish with cilantro and cucumber. Serve open or roll up if desired.
Nutritional analysis per serving: Calories 341; Protein 41 g; Carbohydrate 26 g; Fat 9 g (Saturated Fat 1.74 g); 23% Calories from Fat; Cholesterol 108 mg; Sodium 621 mg; Fiber 3 g
About Family Features Editorial Syndicate

This and other food and lifestyle content can be found at
www.editors.familyfeatures.com
. Family Features is a leading provider of free food and lifestyle content for use in print and online publications. Register with no obligation to access a variety of formatted and unformatted features, accompanying photos, and automatically updating Web content solutions.
Image Available:
http://www2.marketwire.com/mw/frame_mw?attachid=2329854
Add to Digg
Bookmark with del.icio.us
Add to Newsvine


Vickie Rocco
vrocco@familyfeatures.com
1-888-824-3337
http://editors.familyfeatures.com