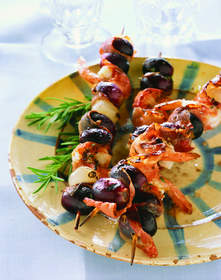 Grilled Antipasto Skewers


MISSION, KS -- (Marketwired) -- 06/06/13 -- (Family Features) Crisp, juicy and sweet, grapes are a real crowd-pleaser. Even better, all three colors of grapes -- red, green and black -- are good for you.

Grapes are a natural source of beneficial antioxidants and other polyphenols. Current research suggests that grapes may help maintain a healthy heart, and may also help to defend your cells against a number of age-related illnesses. Scientists are also working to uncover more links between grapes and eye health, brain health, joint health, and more. At just 90 calories per 3/4 cup serving, grapes are a sensible, delicious snack with no fat or cholesterol.

People love to eat grapes fresh for a refreshing snack, but grapes also add sweet, juicy, crunch and color to salads, entrees and desserts. Here are six fun, flavorful ways to enjoy California grapes:

•Layer -- California grapes are juicy, nutritious and beautiful in breakfast parfaits. •Roast -- Just like when you roast vegetables, grapes also caramelize, yielding a flavor that is wholly unique. You can top your dish with roasted grapes as is, or turn them into a luscious sauce. •Grill -- Oh yes! You can thread them on a skewer with other fruits, like pineapple and mango, vegetables, fish, meat and poultry. Grapes can handle the heat, not only from the coals, but also from a spicy marinade or rub. •Clip -- The best way to present grapes on a fruit platter or as a (truly edible) plate garnish is to clip them into smaller clusters. Grapes provide height, coverage, color and simply great taste. •Dip -- Rich chocolate -- dark, milk, white, flavored -- and grapes make a delightful pairing. •Grab-and-Go -- Pack them up for a snack or as an accompaniment to sandwiches and wraps.

Here is a selection of recipes that show how grapes can add flavor, texture, color, and nutrition and health-promoting properties to appetizers, salads, and sides. Note: Sometimes when a recipe seems too "healthy" to appeal to picky eaters, grapes have a way of making these preparations taste better and look more appealing.

To learn more about grapes from California, visit www.grapesfromcalifornia.com or www.facebook.com/grapesfromcalifornia.

Keeping Hearts Healthy
According to research from the University of Connecticut, funded by the California Table Grape Commission, eating grapes may help protect heart health in men with metabolic syndrome. In the study, men with metabolic syndrome who consumed grapes lowered their key risk factors for heart disease.

Metabolic syndrome is a cluster of conditions that occur together -- high blood pressure, high blood sugar, excess abdominal fat and increased blood triglycerides -- significantly increasing the risk for heart disease, stroke and diabetes.