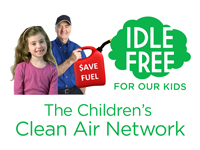 HALIFAX, NOVA SCOTIA -- (Marketwired) -- 06/06/13 -- Editors Note: There are photos and videos associated with this press release.

Dr. Richard Goldbloom, one of Canada's preeminent paediatricians, and Al MacPhee, one of the country's top auto executives led a community 'flash mob' to help 'clear the air' on common IDLE-myths in Halifax yesterday. These myths impact air quality from coast to coast while costing Canadian drivers tens of $millions in lost fuel annually.

The event was held on national Clean Air Day Wednesday, at The Canada Games Centre in Halifax, one of the largest and most eco-friendly family recreational facilities in Eastern Canada.

"It's Clean Air Day, and we need to clear the air on IDLE-myths that are costing families millions in fuel while taxing their kids' air and our environment," said MacPhee, last year's Chair of The Canadian Automobile Dealers Association and prominent Dartmouth car dealer. "Myths such as IDLING is good for the vehicle or restarts are bad. Those are false and can cost each driver $200 in fuel and add a 1/4 ton of excess emissions. When you're parked and waiting it's so simple; go 'IDLE-FREE for our kids.'"

"Ruth Goldbloom recognized the importance of 'IDLE-FREE for our kids', and we were thrilled to have her support," said Ron Zima, Founder and Chair of The Children's Clean Air Network, referring to the late matriarch of Pier 21 in Halifax and wife of Dr. Goldbloom. "Dr. Goldbloom's presence today is important, and a celebration of Ruth's interest in this cause. As a recipient of The Order of Canada and one of the country's top paediatricians, his voice will help amplify our message and clear the air for generations of kids to come. Car guys, kids and community leaders are what drives our award-winning campaign."

The 'flash mob' drew other prominent health sector leaders such as Nancy MacCready-Williams, CEO of Doctors Nova Scotia, Anne McGuire, President and CEO of the IWK Health Centre and representatives from The Lung Association of Nova Scotia. Students from Halifax West High School, Basinview Drive Community Elementary School and universities in Halifax participated in the video and photo shoot to be shared on a Facebook page at IDLE.FREE.for.our.kids.

"On a warm day, roll the windows down while you wait. It's surprising how nice the cross breeze can be and how much we can save instead of using air conditioning," said Robin White, a fourth-year student at Saint Mary's University. "It's like sitting in your back yard on a warm day."

About MacPhee Ford / Leasing

MacPhee Ford is owned and operated in Dartmouth, Nova Scotia by automotive veteran Al MacPhee.

In October 2011, MacPhee was installed as the Chairman of the Canadian Automobile Dealers Association; a national association for franchised automobile and truck dealerships with over 2,800 members representing a key sector of the Canadian economy. In Fall of 2011, MacPhee also assumed the role of Honourary Chair of 'IDLE-FREE for our kids' - the signature campaign of The Children's Clean Air Network.

In 2001 the Better Business Bureau of the Maritime Provinces awarded MacPhee its prestigious Community Achievement Award. This award is presented to a business member in good standing that has shown both a long-term commitment to the BBB and been actively involved in its community. MacPhee remains the first and only automobile dealer in the Maritime Provinces to have received this award.