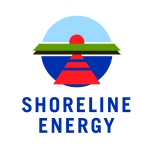 CALGARY, ALBERTA -- (Marketwired) -- 06/05/13 -- Shoreline Energy Corp. (TSX: SEQ) ("Shoreline" or the "Company") has commenced production from its most recent horizontal Montney oil well on its Valhalla property, as well as the addition of 59,000 net acres of land in its Peace River Arch core area.

Montney Project Update

The Company announces that its second 100% working interest Montney well is now on stream, producing at between over 500 barrels of oil equivalent since commencing production. The well tested a 15 meter thick hydrocarbon bearing zone and was completed using energized water based hydraulic fracturing over 15 stages, placing 145 tonnes of sand over 800 meters of the horizontal lateral. The horizontal lateral was terminated early due to drilling difficulties. Future wells are expected to have 1200 m lateral sections.

The discovery well was tied into third party production facilities in April and has proven to be quite prolific and continues to flow at an average daily rate of 71 bbl/d of high quality (34.5 degrees API) oil, 2,860 mscf/d of natural gas and approximately 81 bpd field NGL. This flow rate equates to approximately 628 boe/d (24% oil and liquids). At current rates this represents an incremental addition of 37% over the company's reported first quarter 2013 average production.

A third well in the project has been drilled and completed and is to be tied in during the month of July. Shorelines drilling inventory in the Montney play continues to increase with the Company now having between 14 and 18 horizontal drilling locations, based on quarter section well drilling density, representing a 2 year inventory of continuous horizontal development drilling. The Company continues to pursue accretive land acquisitions in the area which if successful will add to its drilling inventory.

Peace River Arch Acquisitions

The Company is pleased to have been able to acquire from a third party operator an additional 23,600 hectares of undeveloped land in its core Peace River Arch (PRA) operating area. These lands have significant tenure remaining and increase Shoreline's inventory of Cretaceous and Triassic prospects.

Shoreline has assumed operatorship of 8 wells from a Canadian major producer and has reactivated 5 gas wells in the Pouce Coupe field. The wells are currently producing at flush rates and are expected to add 80 BOE/d net of production once stabilized. This added volume will increase operating efficiencies and reduce operating costs on a unit basis at our 3-23-78-10w6 gas processing facility.

Colorado Operations Update

In the past 60 days, Shoreline has participated in 3 gross (0.2 net) directional wells currently being completed in the Niobrara, Codell and the J Sand. Shoreline has also received a drilling notification for a fourth directional well to test the Niobrara, Codell and J Sand, as well as a new horizontal well where the company owns 2.17% interest after pooling. At present, the Company estimates between 25 and 30 new horizontals (0.8 - 1.0 net) as being permitted on working interest lands, along with 22 directional wells (2.1 net).