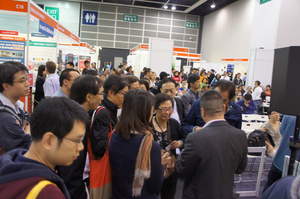 SMART Expos - Asia's leading international property expo since 2004!



HONG KONG -- (Marketwired) -- 06/04/13 -- SMART Expo, organiser of regional-renowned overseas property and investment expositions, announced today the 31st SMART Investment and International Property Expo 2013 will be restaged on June 8-9, 2013 from 11am-7pm in Hong Kong Convention and Exhibition Centre.

The largest of its kind in Asia, SMART Investment and International Property Expo composes a variety of investment talks, overseas property showcases and activities onsite for visitors. Admission is free. Every attendee will enjoy a mystery welcome gift and get a chance to win loads of irresistible lucky draw prizes which includes Bangkok Golf Trip for Two, iPad Mini, Hyundai Cute X Android Tablet, Samsung Galaxy, and many more.

Treasure Hunting for Affordable Luxury Overseas Property

The 31st SMART Investment and International Property Expo will feature a wide variety of affordable luxurious overseas property development projects from Australia, UK, Malaysia, Thailand, Philippines, Japan, Cape Verde, Dubai, Brazil, Canada and US.

Mr. Hoi CHEUNG, Managing Director of SMART Expo said, "There are smart choices available in the market other than local property and stock market. To many people's surprise, quality properties from overseas markets are actually affordable. Attractive returns on investment, high-yields and low price entry points are the many interesting propositions from England, Thailand, Canada, Malaysia, Australia, Japan, Philippines and many more including US, Brazil, Cape Verde and Dubai. In the Expo, you can find a wide range of portfolio to choose from including inner-city condos, oceanfront villas, retirement homes and student accommodation presented by leading global property developers."

One-stop-for-all Investment Show

Hoi continues, "There has definitely been a pick-up in buyer interest in overseas properties in recent months. Our exhibitors receive inquiries for international residential properties have been up by 10-15 % since the government announced its latest control measures on the market in February."

"This year, we gained continuous support from our overseas exhibitors to join the 31st SMART Investment and International Property Expo 2013, including new exhibitors from Japan, MARIMO and Y & T Development. Also, we provide a one-stop-for-all investment networking platform at our Show to feature a variety of alternative investment choices, including Asia Plantation Capital and Capital Alternatives, participants for their first time, to showcase some highly-selected projects regarding Sustainable Responsible Investment at the Expo. Other alternative investment area includes energy investment Breitling Energy, art investment Futures Group, as well as Collins & Kent Fine Art Investment," concluded Hoi.