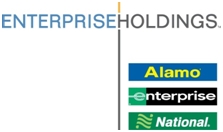 ST. LOUIS, MO -- (Marketwired) -- 06/04/13 -- Enterprise Holdings today announced that Pamela M. Nicholson, the company's President and Chief Operating Officer, has been promoted to Chief Executive Officer. She becomes only the third CEO in the privately held company's 56-year history and the first to come from outside the Taylor family, which founded the company and grew it from a tiny start-up into the world's largest car rental company. The position has been held since 1991 by Andrew C. Taylor, who will continue to be actively engaged with the company as Executive Chairman.

Nicholson -- a 32-year veteran of the company -- will retain her current title of President and continue to oversee the day-to-day, worldwide operations of Enterprise Holdings, which operates Alamo Rent A Car and National Car Rental, as well as its flagship Enterprise Rent-A-Car brand. As CEO, she also will take on expanded responsibility for the company's business strategies and for building and maintaining relationships with key customers, suppliers, financial institutions, elected officials and other stakeholders.

"In her ten years as Chief Operating Officer and five years as President, Pam Nicholson has proven herself more than ready to take on the duties of Chief Executive Officer," said Taylor. "This step is a natural evolution of Pam's strong leadership of our business -- leadership that has won her the loyalty and respect of our management team, of the Taylor family and of the larger Enterprise family.

"What's more, Pam personifies the entrepreneurial, promote-from-within culture that has always been a key part of our company's success," Taylor added. "She began her career with us serving customers at the rental counter, and her great work has earned her one opportunity after another. I know Pam will thrive on this latest opportunity as CEO and build on her long record of achievement with Enterprise."

Since Nicholson's appointment as Chief Operating Officer, the company's revenues have more than doubled, from $6.9 billion in FY 2003 to $15.4 billion in FY 2012. She has played an increasingly important role in driving that growth; among other accomplishments, she led the successful acquisition and integration of the Alamo and National brands, has guided the company's growing presence in the car-sharing market and, most recently, is overseeing Enterprise's aggressive international expansion.